Every child loves pint-sized versions of their parents' belongings. To fulfil those desires, Flux Furniture B.V. has created a miniature version of its award-winning foldable and portable Flux Chair.
In line with the adult model, the new Flux Junior is moulded from durable, colourful and lightweight polypropylene (PP) resin from SABIC. The high-performance SABIC PP PHC series of impact block copolymers enables the Flux Junior to deliver strength and stiffness – commonly used in all sorts of child's play, outdoors as well as inside – together with light weight for easy carrying and flexibility for rapid folding/unfolding.
Further, custom colourability of the SABIC resin allowed Flux Furniture to create three new, child-friendly shades – sky blue, rosy pink, and camouflage green. In addition to the three new colours, the Flux Junior is available in the three colours that match the original Flux Chair. Accessories include the Flux Wall Mount system for flat storage of up to eight Flux Juniors.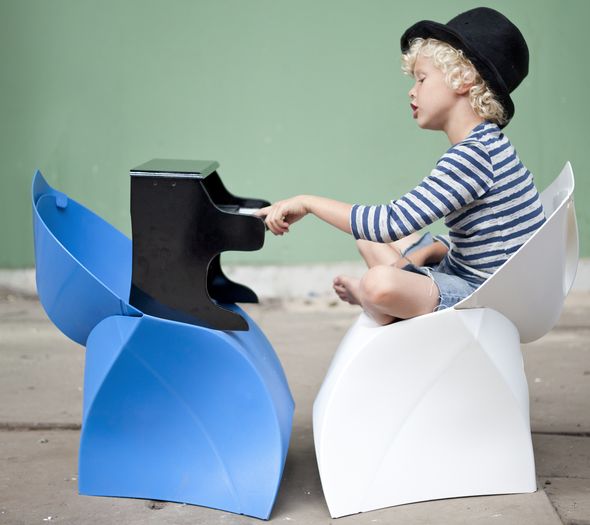 According to Douwe Jacobs, co-founder and lead designer for Flux Furniture, "When we decided to extend the Flux Chair line to children, we again selected SABIC polypropylene. The SABIC material has performed beautifully in the adult-size Flux Chair. Plus, it offers important properties to create a memorable experience for children. The material's excellent strength to weight ratio enables the Flux Junior to withstand active use while allowing kids to move the chair easily. It also provides outstanding durability and resilience so the chair can be used outdoors. And the bright, appealing colours that SABIC helped us create are a magnet for youngsters."
Like its parent, the Flux Junior unfolds from a flat, easily stored package into a distinctive chair. The SABIC PP PHC series of impact block copolymers offer a good blend of properties that enable thin hinges to be incorporated into the thicker, rigid chair body. These hinges are key to the origami-based design.
"This new product is another stage in our continuing close collaboration with Flux," said Paul Wanrooij, Technical Marketing Engineer SABIC. "The new Flux Junior shows how much enjoyment can be produced from a unique design combined with the versatility and performance of our polypropylene technology. SABIC PP PHC series copolymers have enabled Flux to build on its success and reach an important new market segment."
The Flux Chair, which has won the New Venture Award, the Philips Innovation Award and the Grand Designs Product of the Year Award, combines design excellence with environmental responsibility. Because the chair folds flat, it can be efficiently transported in bulk – helping to reduce carbon emissions and fuel consumption.