We publish an interview with Christophe de Margerie, Total's Chairman and Chief Executive Officer. Total Petrochemicals is one of the world's leading petrochemicals companies, produces mainly polymers, which are used to make a host of plastic products that are indispensable to daily life in today's world. to daily life in today's world.
The crisis peaked in 2009. Looking back, what's your take on this out-of-the-ordinary year?
In some ways, 2009 turned out just the way we expected: we had based our budget on oil at $60 a barrel and Brent averaged $61 for the full year.
However, I have to admit that we didn't see the rest coming at all, especially the weak euro and the slide in natural gas prices. We had also hoped that refining margins would improve. When the bottom dropped out of oil prices in early 2009, it had a positive impact for a time - unfortunately it didn't last long.
Refining margins then collapsed. On the other hand, petrochemicals and specialty chemicals held up pretty well. They were impacted by the crisis, but our teams worked extremely hard to cut costs and position themselves so that they would be shielded from the decline in demand. So our overall performance was a bit better than we expected.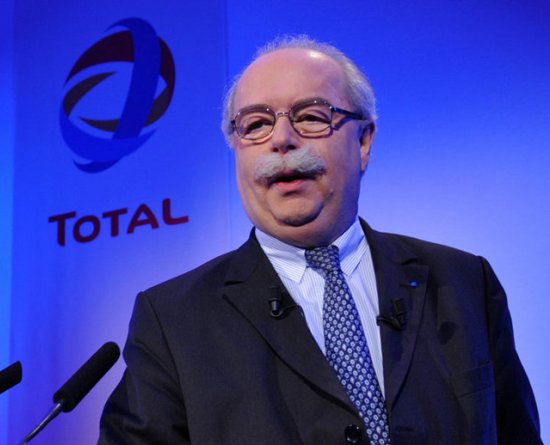 How is 2010 shaping up?
First I'd like to say a word about the recession in the United States, which began in 2007, long before September 2008 and the Lehman Brothers bankruptcy. Lehman's fall accelerated the crisis and we experienced the full brunt of its impact at the end of he year, when oil prices in turn collapsed. As soon as that happened, we weighed our trategic options for maintaining both a policy of relatively intensive capital expenditure - about €13 billion - and paying a stable dividend. We achieved both those ojectives in 2009.
2010 is a transition year, a bit better than 2009. The year got off to an even btter start than we projected, thanks to higher crude oil prices and a lower euro. The price of oil averaged $76 in the first quarter, compared to $60 last year.
On top of that, refining margins firmed up at the beginning of the year and were also higher than we were expecting. However, we aren't sure that it will last and we remain quite cautious. The problem is actually structural: demand is declining, so we don't see refining margins stabilizing at a satisfactory level in the short term - at least not until after the industry has adjusted.
Both specialty chemicals and petrochemicals are also doing fairly well as the recovery takes hold.
So you're optimistic?
We haven't seen the end of the crisis. There are still sectors at risk of a bubble. So we must remain, not conservative, but very attentive to and very strict about our cost and cash flow management, to ensure that we don't have to change our capital expenditure plan if the economy relapses or takes longer than expected to recover.
We want to be able to keep doing the kind of major transactions we finalized in January, which brought us a billion barrels of potential reserves. I'm referring to our acquisition of interests in the Halfaya field in Iraq and the Ahnet field in Algeria, as well as the joint venture with Chesapeake, an American company specializing in Texas shale gas.
Our goal is to acquire reserves, not companies, because the market is still expensive. And I'm delighted that our switch to a business model that places more emphasis on partnerships and sustainable development has begun to pay off.