The Ball Packaging concern has existed for several decades. Please tell us what events were at that time the most important ones from the company's point of view and which may be called milestones in development of the concern?
The Ball company was founded by five brothers in the 19th century in the US: The five founding Ball brothers started the company in 1880 in Buffalo, New York. Two of the brothers, Frank and Edmund, borrowed $200 from their Uncle George, a minister, to go into business selling wood-jacketed tin containers to hold paint, varnishes and kerosene. Since its founding, Ball has grown from a small producer of wooden-jacketed tin cans to an international manufacturing company. In Europe the packaging company Schmalbach was founded in 1898 in Braunschweig, Germany.
The company started to produce metal packaging for vegetables. This company also grew to an international leading packaging company named Schmalbach-Lubeca. It was the first European company that started to develop beverage cans in 1935 – and introduced the first beer cans on the German market in 1951.
In 2002 Ball Corporation acquired Schmalbach-Lubeca AG, the German-based metal beverage company, and created Ball Packaging Europe, boosting Ball's beverage can sales by more than $1 billion. Today Ball is the largest producer of beverage cans in the world; in North America, Ball is the largest producer of aerosol cans and the second-largest producer of food cans.
Certainly, as the market potentate in your industry you have to set the trend of its development also in technological terms. Which achievements of the company in the field of e.g. production or decoration of packagings brought the concern the greatest recognition?
Our Ball Resealable End was revolutionary for the beverage can industry because for the first time we succeeded in finding a marketable solution that doesn't change the classic shape of the can with its logistic and ecological advantages.
Reclosability offers our customers new marketing opportunities and more convenience for the consumers. Until today, Ball Packging Europe is the only can maker who offers this resealable can on the market. In 2009, the Ball Resealable End was awarded with various prices including the "Can of the Year Award" and the "Best in Metal Award". Other international awards for this innovation followed, such as the IMDA Technical Award 2010 and AmeriStar Award 2010.
Reproducing custom designs in unprecedented quality, digital printing follows the resealable closure as a second game-changing technology able to unlock new markets for beverages cans. Ball Packaging Europe is the only company which brought digital printing for beverage cans to market maturity. A digital print head applies images straight onto the can surface at resolutions up to 600 dpi. The images pass directly from computer to production line without any need to make up a printing plate. This is not just a time saver; it means every container can be printed at top quality with a different design. With these two revolutionary and many other innovations Ball Packaging Europe is the leading beverage can producer in terms of innovation.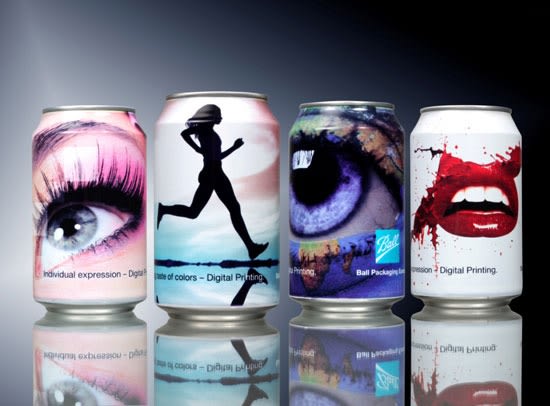 As we have already mentioned, Ball Packaging Europe is one of the largest global producers of metal and plastic cans for the beverage and food industries. Which industry: that related to metal packaging or that related to plastics packaging is more demanding and difficult to be served, from your company's point of view?
Ball Corporation announced in June 2010 that it has entered into an agreement to sell its plastic packaging, Americas, business to Amcor Limited. The plastics division was Ball's smallest business. It accounted for less than 9 percent ($635 million) of Ball's 2009 sales of $7.3 billion. Ball believes the plastics business is better positioned to grow as part of a larger plastic packaging company. Since the plastic business has been sold, Ball's packaging business – which is more than 90 percent of total sales – is entirely metal cans, aluminum and steel, for beverages, foods and household products.
In addition, Ball Packaging Europe conducts the successful activity in the Polish market. Please tell us about operation of your Polish plants.
Since 1995 Ball Packaging Europe has a beverage can plant in Radomsko with 2 production lines and about 170 employees. Aluminium cans with many different sizes: 25cl, 33cl, 50cl,– mainly for beer, but also for Carbonated Soft Drinks (CSD) and Energy Drinks.
The cans we produce in Radomsko are mainly sold in the Polish market but we supply also markets in Central and Eastern Europe (Belarus, Ukraine, Estonia, Czech, Slovakia, Lithuania, Hungary, Romania , Russia,Serbia, Germany and Austria).
Ball Packaging Europe is the most innovative company on the can market offering its customers many non standard products. Special features are for example "Embossed cans" with a three dimensional surface, the advertising slogan is "you can feel the difference", makes the can a premium packaging.
- small 25cl slim cans - most dynamic segment, sold mostly for energy drink producers, as well as CSDs 56,8cl - pint size, quite new for Polish consumers, focused on Polish emigrants coming from Uk where the size is widely used and very popular.
- undertab printing for promotional activities - used widely to promote the product with consumer contests, prizes etc in order to create additional value of the product.
Also, Ball Packaging Europe's activities in the Polish market includes its responsibility for the environment. The company (then Schmalbach-Lubeca) was the main initiator of the Recal Foundation when it was set up in 1995.
The Recal Foundation promotes environmental education and the concept of recycling, in particular amongst children and adolescents. The Recal Foundation environment programmes have gained several awards, for example from the Polish Minister for the Environment and the from the national environmental organisation (NFOSiGW).
Ball Packaging Europe was presented with the Eagle Award by Rzeczpospolita in May 2003. In addition Ball Packaging Europe founded the Recan organisation which task is not education but to physically collect used beverage cans and to return them to the recycling process.