Innovative materials are playing important roles
Metals and other materials are gradually replaced by high performance materials, which are low in density, strong, moldable, heat resistant, corrosion resistant, antibacterial, UV-resistant etc., creating high value-added products.
Automotive industry
Application of engineering plastics and carbon fiber composite materials in the automotive industry incredibly contributes to vehicle lightweighting. Battery cases, a core component of new energy vehicles, made of carbon fiber composite materials, are 80% lighter than their steel counterparts, on top of being corrosion resistant, water proof, flame retardant and long lasting. Automotive air-conditioning's outlet leaf is mainly made of high rigidity PA6. Due to the high fiber content, defects such as floating fiber and white mark frequently occur during injection molding. Jinyoung (Xiamen) Advanced Materials Technology Co., Ltd.'s PA6 successfully addresses the defects and improves the part appearance.
Medical industry
New materials also find their applications in the medical sector. Functional materials like polymers with good biocompatibility, new materials for implants, sterilization/gamma ray resistant materials and electro-conductive materials are only a few examples of safe, green and high performance medical grade plastics. LUVOCOM material is suitable for various disinfection methods and repeated disinfection. It can be used for plastic parts of reusable medical devices such as dental instruments and handle of minimally invasive surgical instruments. LUVOCOM can also meet the requirement of high temperature resistant, sterilizable, anti-static /electromagnetic protection and pigmentable. It can be used for special color button, connectors, insulators, valve parts, anti-static roller, etc.
Green solutions are answers to prosperity
To go green is to prosper, so the importance of environmental technology innovation is self-evident. Lightweight plastics, multifunctionalities, low VOC emissions, the use of biodegradable plastics and the recovery of recycled materials are among the means by which many industries move towards sustainable development.
Packaging industry
Promotion of lightweighting continues to be the major driver for the packaging industry, as not only can it reduce the use of materials, but also effectively reduce the gross weight, facilitating transportation. The Dow Chemical Company's enhanced expanded polyethylene (EPE) foam solution delivers high level of cushion performance and abuse resistance, achieving new levels of downweighting or downgauging. There is 10 - 15% savings on raw material cost in unit packaging.
Biodegradable materials, as well as centralized collection and recycling of packaging materials, are gaining popularity among many companies. The Ecoworld biodegradable polymer and Ecowill biodegradable polymer compounds from Jinhui Zhaolong High Technology Co., Ltd. are compostable, printable and weldable. NatureWorks joined hands with compounders, converters and coffee companies for a comprehensive research and development effort, using Ingeo to solve many technical challenges presented in making a capsule that meets the temperature requirements for both the drip and high pressure platforms while maintaining compostability.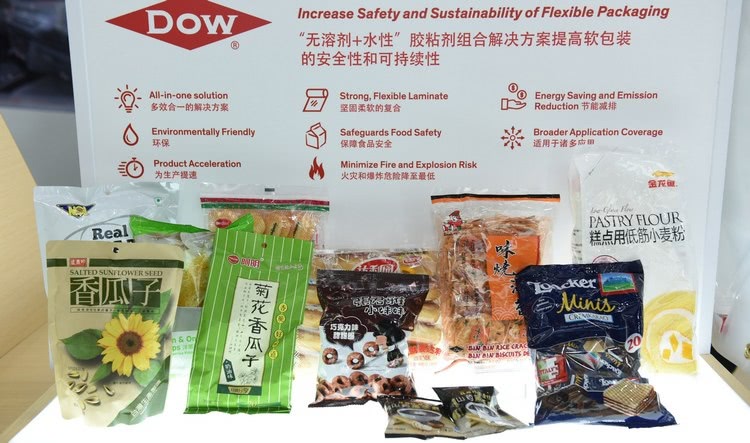 The use of biodegradable plastics and the recovery of recycled materials are among the means by which many industries move towards sustainable development.