Energy efficiency and resource conservation wil be the central themes of the special review at K 2010. The event will be held in Düsseldorf from 27 October to 3 November. Every three years K is the biggest worldwide trade fair for the plastics industry.
Plastics and rubber stand for endless new applications with the power to inspire and fascinate. Most recently, the fact that plastics are exceptionally energy-efficient has been assuming an ever-more prominent role. Plastics are the key to resource-conserving technologies characterised by low materials consumption. The use of plastics brings major benefits in, for example, heat insulation of buildings, as well as mobility through lightweight design in cars, buses, trains and aircraft. Plastics are indispensable for the expansion of renewable energies.
The range of applications for plastics in modern energy technology is vast, stretching from wind turbine rotor blades, which can only be produced using fibre-composites, to membranes in fuel cells, and to photovoltaic cells, which will be printed on a grand scale on membranes with the help of plastics technology. Numerous examples of energy-saving applications and resource-conserving production processes will be on show at K 2010, the world's largest trade fair for plastics and rubber, in Düsseldorf from 27 October to 3 November.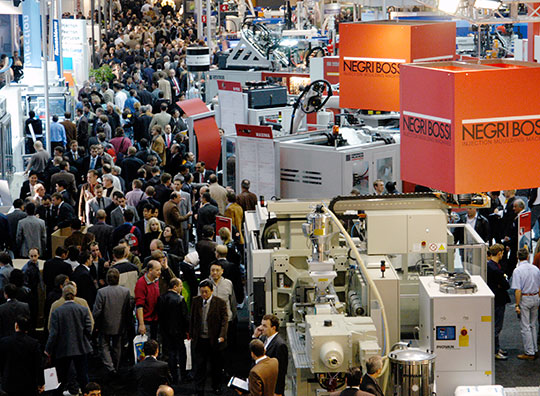 The presentations by machinery and equipment manufacturers, raw materials producers and plastics processors will this year be flanked by a special review entitled "Visions in Polymers". On the basis of examples from different areas of life, the review will reveal which development trends can be discerned, and which innovations the industry has in its pipelines. Here, too, special emphasis will be placed on the themes of energy efficiency and resource conservation.
The multimedia exhibition – including film sequences, articles and selected exhibits – will highlight the significant contributions that plastics are already making today and the opportunities they offer for tomorrow. Furthermore, in daily panel discussions, top-ranking scientists will address questions as to how the future could look.
This special review will be of interest not only to exhibitors and trade visitors to K 2010 but also to the general public. It is organised by the German plastics industry under the auspices of PlasticsEurope Deutschland e.V. and Messe Düsseldorf.
The special review will focus on six main themes:
Energy
This will sound out ways of capturing the sun's energy and expanding the use of renewable energies, not least by creating efficient electronic applications with the help of functional surfaces.
Sustainability
Focal areas will be measures to counteract global warming, e.g. through economical and intelligent construction and design concepts. The opportunities here are by no means exhausted!
Mobility
Innovative lightweight structures which also offer enhanced safety and comfort will be the hallmarks of tomorrow's mobility.
Communication
Many developments in communication technology can only be accomplished with advanced, high-performance plastics – what do research and industry hold in store for the future?
Food
A vast range of applications in the cultivation, storage, transport, packaging and protection of foodstuffs highlight the merits of plastics, which also offer solutions for efficient use of water. Resource-conservation and environmental protection will continue to predominate as key aspects of developments here.