On six days during K 2010, current topics will be discussed by a panel of experts on the stage at the special exhibition in Hall 6. From 11 to 12 a.m., speaking in German or in English on alternate days, the panel members at each session will explore perspectives for the future from various angles. A day has also been reserved at this K special review specifically for exchanges with the younger generation: "Young people meet ...".
The opening discussion on Wednesday, 27 October, led by Prof. Dr. Bernhard Rieger from the Wacker chair of Macromolecular Chemistry at the Technical University of Munich, will centre around "CO2 as a raw material." The discussion will take place in English.
"Energy efficiency in plastics processing" is the topic for the session on Thursday, 28 October. Prof. Dr. Johannes Wortberg from the Institute for Product Engineering of the University of Duisburg-Essen will lead this German-language panel discussion.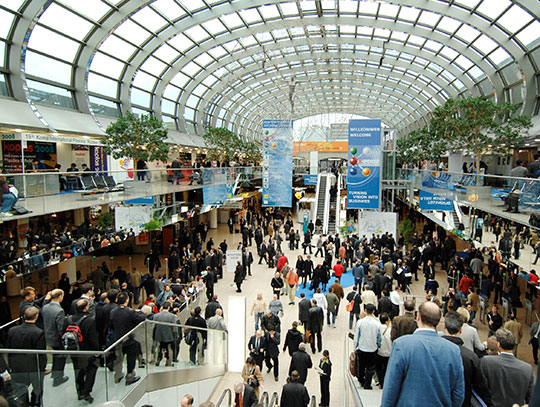 "Lightweight construction with plastics" will be the theme of the discussion in English on Friday, 29 October. The panel will be headed by Prof. Dr.-Ing. Volker Altstädt, University of Bayreuth.
"Surfaces" will be the subject discussed (in German) on 30 October by the panel led by Prof. Dr. Matthias Rehahn from the Institute for Macromolecular Chemistry of the TU of Darmstadt.
Prof. Dr. Rolf Mülhaupt, Institute for Macromolecular Chemistry of the University of Freiburg, will be the moderator at the session on 1 November, which will focus on "Intelligent materials". The experts will be speaking in English.
The final session on 2 November will deal with "Plastics and resource efficiency". It will be chaired by Dr.-Ing. Martin Bastian of the plastics centre, Süddeutsches Kunststoffzentrum. (In German).
The discussion groups on Sunday, 31 October, will centre on environmental aspects, future prospects, educational and career opportunities. Young people are invited to join in and learn about the way materials are used, for example in car-making, about resource conservation, activities undertaken by the industry, as well as the opportunities offered by the German educational system today, and trends in the employment market.
They will have the chance to talk to a number of experts including Prof. Dr. Rolf Mülhaupt, Institute for Macromolecular Chemistry of the University of Freiburg, and Prof. Ernst Schmachtenberg, Rector of the RWTH Aachen University (11:00 to 11:30 h); Prof. Rudolf Stauber, Chairman of the Committee on Plastics in Automotive Engineering, VDI (12:30 to 13:00 h); Dr. Martin Brudermüller, Board Member of BASF SE (14:00 to 14:45 h); Patrick Thomas, CEO of Bayer MaterialScience AG (15:30 to 16:00 h); as well as Hans-Theodor Kutsch, Managing Director of Albis Plastic GmbH, and Dr. Frank Schneider, Management Board Chairman of SOLVAY GmbH (16:30 to 17:15 h). Critical questions will be welcome!
Some 3,100 exhibiting companies and well over 200,000 trade visitors are expected to attend K 2010 in Düsseldorf from 27 October to 3 November. The world's biggest trade fair for the plastics and rubber industry will be occupying all 19 halls of the Düsseldorf exhibition centre.
The centre will be open from 10 a.m. to 6.30 p.m. daily from Wednesday, 27 October, to Wednesday, 3 November 2010. A one-day admission ticket costs EUR 55 at the gate (EUR 49 plus postage when purchased via online ticketing). Schoolchildren, students and apprentices/trainees pay a reduced fee of EUR 15. The three-day admission ticket costs EUR 120 at the gate (EUR 108 plus postage via online ticket sales).