Automotive: In-mould coating for high-gloss and scratch-proof exterior parts
At the Plast 2018, ENGEL will bring the evolved clearmelt in-mould coating technology to Italy for the first time. When it comes to the integrated process for the extremely efficient production of high-quality surfaces, automobile manufacturers have so far focused mainly on vehicle interior applications. However, at its booth in Milan ENGEL will be producing D-pillars for a SUV model. The high-gloss exterior claddings will be produced painted alternately in black and metallic silver on an ENGEL duo 2460/500 injection moulding machine. In addition to the extremely high quality appearance of the components, extremely scratchproof surfaces are another advantage that clearmelt technology provides for the exterior area. Testing in a car wash has shown the sample parts to be very robust.
In the clearmelt process, at first a thermoplastic base carrier is produced in the injection moulding machine, then coated in polyurethane in the second cavity of the same mould. The process can be easily combined with IML, allowing for the use of decorative and capacitive foils as well as wood veneers. In a single step, clearmelt technology thus provides pre-finished vehicle components that do not need to be varnished or post-processed in any way. The polyurethane topcoat provides the high degree of gloss and the scratch resistance. clearmelt is currently the only process on the market that delivers various surface structures, scratchproof and ready for installation. Embossed structures - leather grain, for example - are also precision moulded.
In the clearmelt process, it was initially only possible to process colourless polyurethane in this high degree of efficiency, but now ENGEL's partner Hennecke (St. Augustin, Germany) has split the isocyanate and colour processing across two systems, allowing for the processing of various colours in quick succession. With the new Colourline and Multi-Connect Systems by Hennecke, the colour change only takes 15 minutes. The complete PUR process is controlled through the CC300 operating panel of the ENGEL injection moulding machine.
The highly integrated and completely automated process is the result of close cooperation between a total of four companies. Besides ENGEL and Hennecke, Schöfer (Schwertberg, Austria) and Votteler (Korntal-Münchingen, Germany) are involved.
Packaging: Highest performance meets maximum energy efficiency
The packaging exhibit is all about high performance in conjunction with very short cycle times. 500 ml food containers will be produced on an all-electric ENGEL e-motion 440/160 injection moulding machine featuring a 2-cavity mould by Glaroform (Näfels, Switzerland). Thanks to in-mould labelling (IML), the production cell will be outputting ready-to-fill packaging. For the IML automation, ENGEL is collaborating with two Italian partners: Campetella (Montecassiano) and Viappiani (Segrate).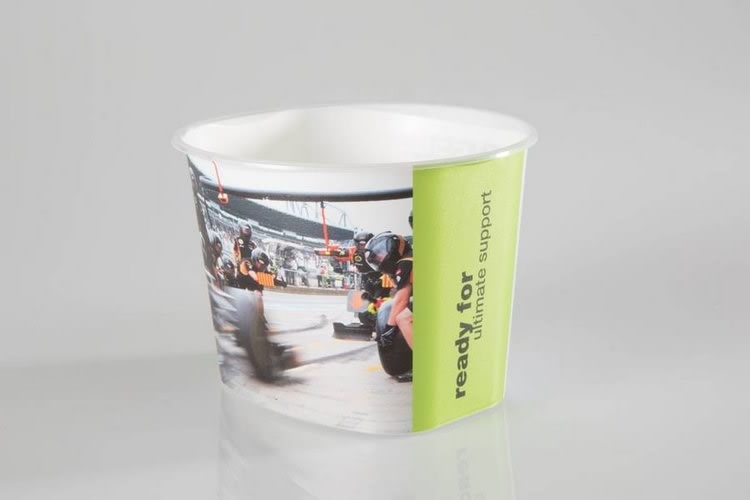 An ENGEL e-motion 440/160 with integrated in-mould labelling will produce 500 ml food containers at the Plast.