With continuous growth in scale over the years, Chinaplas 2012 (the 26th International Exhibition on Plastics and Rubber Industries), closed on April 21, 2012 at Shanghai New International Expo Centre, PR China, climbed another big step with new records of exhibition area, numbers of exhibitors and visitors.
Ranked as Asia's No.1 and world's No.2 plastics and rubber show, Chinaplas 2012's scale has expanded 16.67% to 210,000sqm compared to 2011 and recorded 40% with comparison made to the one held in Shanghai in 2010. For visitors, a breakthrough of 5-digit number to 109,858 with growth rate of 16.77% versus 2011 and 34.9% versus 2010.
"Chinaplas has enjoyed the benefits from the continuous economic recovery since last year especially in Asia. The show's growing reputation together with the strengthening economy in the Asian region boosted confidence of our exhibitors, leading to an upsurge in the number of exhibitors and exhibition scale. Thanks to the global trend of green manufacturing and China's 12th Five-year plan, we together with the exhibitors bring in many new development, new technology and new materials which feature low carbon emission, eco-friendliness, energy saving, etc.," said Mr. Stanley Chu, Chairman of Adsale Exhibition Services Ltd., Organizer of Chinaplas.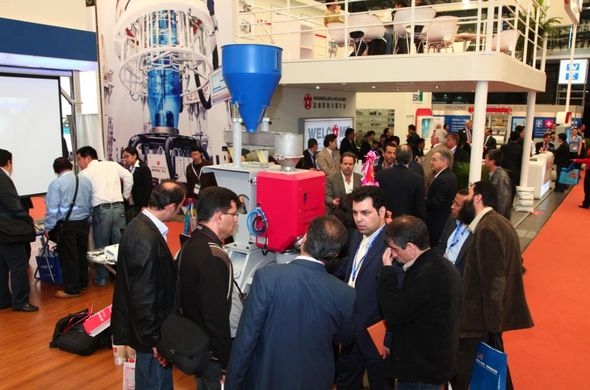 Mr. Chu added, "the strong reputation of Chinaplas, the well-mixture of Chinese and overseas exhibitors, the latest market updates for different application sectors, together with a diversified range of exhibits have attracted visitors from different parts of the world, achieving a double-digit increase in the number of visitors. More importantly, ever-increasing number of overseas visitors has upgraded Chinaplas to a higher international level."
Mr. Chu, Mr. Bu Zheng Fa, President of China National Light Industry Council, Mr. Chen Shi Neng, Honorary President of China National Light Industry Council, Mrs. Yu Qingji, Executive Vice President of China Machinery Industry Federation, Mr. Dirk Elbers, Lord Mayor, City of Düsseldorf, Mr. Qian Gui Jin, Vice President of China National Light Industry Council, Mr. Cao Jian, Vice President of China Plastics Processing Industry Association, Mr. Zhang Jingzhang, President of China Plastics Machinery Industry Association, Mr. Werner Matthias Dornscheidt, President and CEO, Messe Düsseldorf GmbH, Mr. Bernhard Merki, President of Europe's Association for Plastics and Rubber Machinery Manufacturers (EUROMAP), Mr. Chen Ming, President of Shanghai Society of Plastics Industry and Ms. Liu Jing Fen, Vice President & Secretary General of Shanghai Society of Plastics Industry officiated at the ribbon cutting ceremony on April 18, 2012 to mark the grand opening of this mega plastics and rubber trade fair which occupied an exhibition area of 210,000sqm. 2,729 exhibitors coming from 36 countries and regions filled up the 25 exhibition halls, enjoying another double-digit growth of 12.1% comparing to 2011. The show also welcomed over 500 new exhibitors who were optimistic about China and Asian plastics and rubber industries. Some of renowned new comers were LG Chem, Daelim, Styrolution, Orion, Kao, ESOPP, Senvo, Shihyao, Enaiviv, Shantou Auto Packaging Machinery, Zhongshan Guzhen Huaxin, Wells, Fukan Plastics and Techne-Graham, etc.