It is worth mentioning that two new pavilions from Korea and Thailand joined Chinaplas this year, boosting the number of pavilions to 13 and breaking last year's record. The rest of the pavilions came from Austria, Canada, France, Germany, Italy, Japan, PR China, Taiwan, Turkey, UK and USA. The prominent presence of these pavilions strongly proved the rising status of Chinaplas in the international arena.
The leap over 100,000 visitors contributed from not only local but also overseas visitors. CHINAPLAS this year gained 28,110 overseas visitors, which was 25.59% from the total. They came from 150 countries and regions with Korea, India, Japan, Indonesia, Taiwan, Thailand, Malaysia, Russia, Hong Kong and Iran as the ten top origins which accounted for 62.83% of overseas visitors. Over 50% of overseas visitors came from Asia excluding Hong Kong / Macau and Taiwan (55.43%), followed by Europe (10.88%), Middle East (9.49%), Hong Kong, Macau and Taiwan (8.93%), America (8.57%), Africa (5 %) and Oceania (1.7%). For local visitors, Eastern China (excluding Shanghai) formed the majority which was 47.25%, followed by Shanghai (26.68%), Southern China (12.19%), Northern & Northeastern China (7.7%) and Central, Southwestern and Northwestern China (6.18%).
Each year, delegation groups flocked to the show on the first two days. This year, over 100 groups of key buyers, corporations and associations, representing different application sectors, came from all over the world, including Brazil, Colombian, India, Indonesia, Iran, Japan, Korea, Malaysia, Philippines, PR China, Russia, Taiwan, Thailand, Turkey, Ukrainian and Vietnam. The strong attendance of renowned enterprises, such as Foxconn Technology Group, LOREAL, MicroPort Medical, Rexam Plastic Metallizing Technologies and United Automotive Electronic Systems, etc. has fully demonstrated the leading role of Chinaplas as an effective sourcing platform for plastics and rubber technology.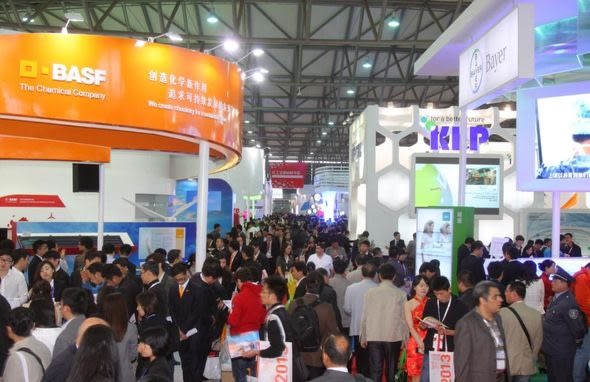 To demonstrate the theme of "The Future is in Plastics and Rubber", the "Future Zone", comprising "Future Car" and "Premium Design Gallery", succeeded in capturing the attention of all participants. The "Batshark", champion of "Future Car" design competition operated under the "Nurturing Our Future" program, was unveiled at the opening day. Specially created by a group of students in East China University of Science and Technology, the "Batshark" featured smart operation system, lightweight and green technology with its design concept revealing the forward looking future in the plastics and rubber industries. Another part of the "Future Zone" was the "Premium Design Gallery" which showcased a series of new, innovative and unique design of various plastic-made end products. Highlighted exhibits are "a Tree of Life" which is made of polycarbonate film; a Solar Impulse aircraft model which uses solar energy as the power source; chairs which possess delicateness, high mobility and various designs on shapes; three cutlery items that can be jointed together, forming a small yet stable free-standing sculpture, etc.