SABIC Innovative Plastics is spotlighting high-performance thermoplastic resin, sheet, foam and composite solutions that are helping aviation customers meet the critical challenges of weight-out, regulatory compliance, and sustainability, while improving the flying experience.
These innovative products, together with the company's extended portfolio of advanced material technologies are helping global aircraft OEMs reduce weight by up to 50 percent, which can conserve fuel and lower emissions; meet tough flame-smoke-toxicity (FST) regulations; reduce overall system costs; and enhance the safety and comfort of the cabin environment. SABIC Innovative Plastics' growing array of products reinforces the company's leadership as a global supplier to the aviation sector and demonstrates the transformative power of high-performance plastics.
SABIC Innovative Plastics is also displaying noteworthy applications: the Crystal Cabin award-winning LSG Sky Chef ultra-light in-flight trolley; a passenger service unit engineered and supplied by PECO Manufacturing for the new Boeing 737 BSI; new generation oven parts from Sell Cabin Interiors GmbH; a magazine/brochure rack from Bucher Leichtbau AG; and a new seating design from Geven S.p.A., a leading aircraft seating and interior solutions provider. These solutions illustrate how SABIC Innovative Plastics is working with some of the industry's leading solutions providers to help them stay ahead of ever changing industry standards.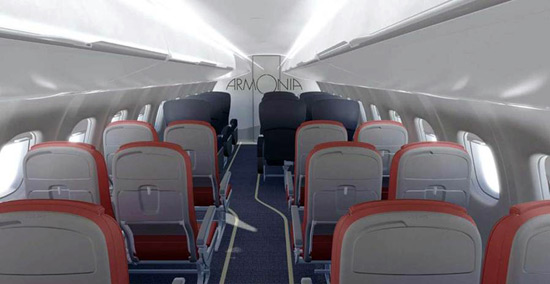 "Global aerospace OEMs and tiers need compliant, safe and fuel-efficient solutions to cost-effectively design and manufacture next-generation aircraft," said Jack Govers, general manager, Specialty Film & Sheet, SABIC Innovative Plastics. "Our expertise and commitment to work side-by-side with our aerospace customers enables us to help meet these challenges, and our continued investment to expand capacity and develop newer, better advanced materials solutions will help drive long-term customer success. SABIC Innovative Plastics is committed to raising the bar in thermoplastic resin and sheet performance in this exciting, dynamic and important industry."
On average, an aircraft will burn about 0.03kg (.06lbs) of fuel for each kilogram (2.2lbs) carried on board per hour. Given that the total commercial fleet flies about 57 million hours per year, cutting one kilogram per flight can save roughly 1,700 tons of fuel and 5,400 tons of carbon dioxide (CO2) per year.
SABIC Innovative Plastics' new high performance technologies for the aircraft sector can deliver important benefits when they are implemented widely throughout the airlines. For example, by using Lexan F6000 sheet to replace traditional polyvinyl chloride (PVC)/acrylic products on seating frames, an airline could reduce weight by approximately 23 percent, which is 80kg (176lbs) based on a plane with 190 seats.
The following materials offer compelling weight, performance benefits and compliance for interior applications.