Automation and complex turnkey systems
One example of an automated medical high-end application is the production of pre-filled COP syringe barrels with a stainless steel electric Allrounder that meets the stringent GMP requirements. A laminar-flow box above the clamping unit ensures clean production conditions and prevents electrostatic discharge.
Ambitious material processing
Plastic products that perform preventive or therapeutic functions within the body in the form of drug implants have enormous potential. One example of this is the production of a vaginal ring for HIV prevention. In this case, Arburg acted as primary contractor, developing and implementing a complete production cell. This complied with validation of the guidelines for medical devices in Europe (MDR) and the US (FDA).
Micro production cell for tiny parts
Arburg offers a complete micro-production cell that can be flexibly used for the reproducible production of extremely small parts and micro implants, as required in minimally invasive interventions. This comprises a small electric Allrounder 270 A injection moulding machine equipped with a Euromap size 5 micro injection unit and a horizontal dual arm robot for the reliable separation of micro components and sprues. The micro injection unit combines an 18 or 15-millimetre screw for melting the material with an 8-millimetre screw for injection. This enables problem-free processing of normal granulate sizes and therefore all common materials.
Additive manufacturing in medical technology
Arburg offers the Freeformer for additive manufacturing of one-off parts and multi-variant small-volume batches, which could also be used in a clean room setting. The freedom in the choice of materials offered by this open system opens up completely new applications: Arburg demonstrated that the Freeformer can in principle also process medical PLLA, based on the example of facial, cranial and hand bones. Other applications include personally customised surgical aids, such as positioning templates for prosthetic implantations.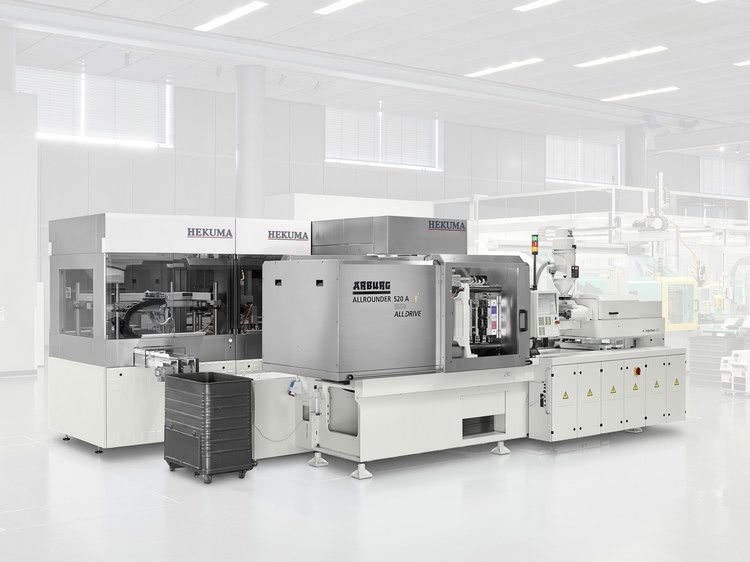 The electric Allrounder 520 A with a stainless steel clamping unit meets the stringent quality requirements that apply to the production of medical technology parts.
Source: Arburg