The Arburg subsidiary in Poland celebrated its silver anniversary on 26 September 2017 in grand style. The 200 guests included a high-ranking delegation from the German parent company, including Managing Partner Michael Hehl and Managing Director Sales Gerhard Böhm. In the unique setting of the Old Orangery in Warsaw, Michael Hehl presented the traditional Arburg anniversary sculpture and looked back over the subsidiary's success story.
The guests were welcomed by subsidiary manager Dr. Sławomir Śniady, who thanked the customers for 25 years of successful cooperation: "We are proud of the successes that our customers have achieved in the last decades and also that we have provided an important contribution to this with our technology and consultation." With numerous illustrations, he presented milestones of the development of Arburg products and the Polish market as well as highlights of the numerous customer events.
Rapid development in Poland
Memories of the start of activities of Arburg in Poland were shared by Managing Partner Michael Hehl in his speech: "When we established the Arburg subsidiary in Poland in 1992, we started practically from scratch, as the name Arburg and the Allrounder were not very well known in Poland". Things began with the sale of used machines. The first customers were Plastmot near Katowice and IGA in Łaskarzew near Warsaw, whose representative Leslaw Majewski was a guest at the anniversary celebrations. He was explicitly thanked by Michael Hehl: "When you purchased your Allrounder, you started the ball rolling for our successful development in Poland."
Michael Hehl presents the anniversary sculpture
Following the sale of the first new machine to Owel in Warsaw, things took off rapidly: the level of recognition for Arburg and its products increased, our subsidiary went from strength to strength and Arburg continuously gained market share. Today, our Polish subsidiary is regarded as a pearl among the international Arburg organisations," emphasised the Managing Partner. As an expression of gratitude for the long-standing, successful work of the Arburg team, he presented Managing Director Dr Sławomir Śniady with the Arburg anniversary sculpture and thanked the customers on behalf of the entire organisation for the trust they had placed in Arburg and the successful cooperation over the past 25 years.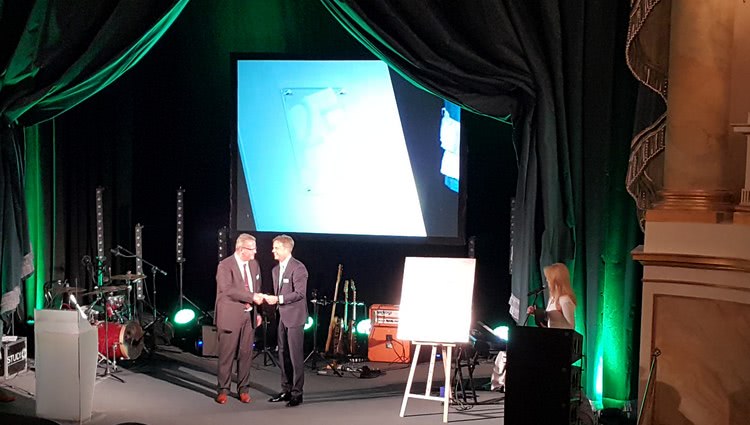 Competence and continuity as success factors
In his speech, Managing Director Sales Gerhard Böhm analysed the success factors: "In addition to the performance of our high-tech Allrounders, our customers value the excellent support provided by our local team. This team has made a name for itself not only for its competence, but also for its continuity." Two of the subsidiary's employees, Marek Zembrzuski and Pawel Kucharczyk, have been working for Arburg in Poland for 25 years. Dr Sławomir Śniady has headed up the subsidiary since 1995, overseeing its expansion. "The team now comprises 21 employees, ten of whom work in Service, providing fast, expert support for this large country, finding solutions at local level and carrying out preventive maintenance work," said Gerhard Böhm.