Compared to multiple-stage processing with separate drier/crystalliser and extrusion plants, the specific overall energy consumption at merely 0.25 to 0.28 kWh/kg of the single-step Vacurema Basic technology is unrivalled. Furthermore, the IV value (IV: intrinsic viscosity as a measurement for molecular weight) of the rPET can be set so it is above the average: IV loss is – depending on throughput – merely approx. 1% to a maximum 4%, making the feed material virtually loss-free and processed with the lowest production costs. Besides PET flakes, the Vacurema® Basic system can also process ground sheet, ground edge trim and similar items equally well, inlcuding mixtures of them in any ratio.
Common applications for PET flat sheet are food packaging produced through thermoforming such as insert trays for chocolates and confectionary, open and resealable trays and containers for meat, fruit, vegetables and sandwiches and also a variety of cups/cartons, boxes and blister packs. The amount of sheet containing recycled materials – often in the form of a multilayer sheet with rPET in the middle layer – has grown continuously for economic reasons. With regard to 3-layer ABA sheets, however, fears are growing that the virgin material (A) layer may be damaged in the tool during the thermoforming process – a critical situation for contact with food.
This problem does not exist with rPET from the Vacurema Basic system. Since it was launched in 1998, the Erema process has become established as the most widely used technology worldwide for the bottle-to-bottle recycling of post consumer PET bottle flake. Many country-specific approval certificates and also the internationally recognised certification by the North American FDA document the suitability of the rPET produced in this way for direct food contact.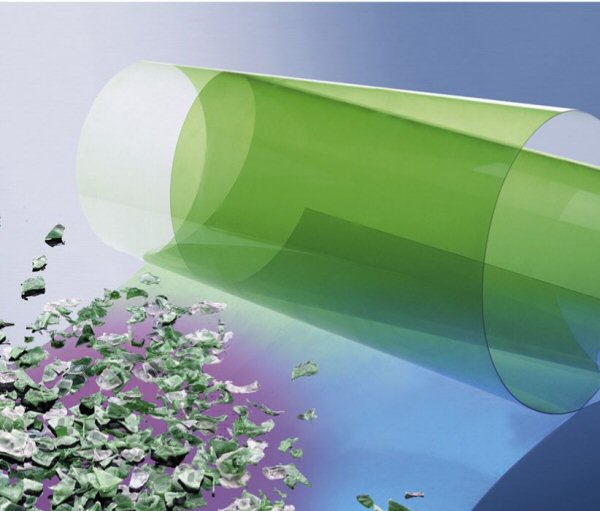 In Europe, the new regulation (EC) No. 282/2008 of March 2008 stipulates that in future, recycled plastic can be used for food packaging only if it has been produced using an authorised recycling process. The supervisory organisation responsible for this is the European Food Safety Authority (EFSA). rPET sheet produced using the Vacurema Basic system also fulfils the EFSA criteria in every respect. This has been proven in so-called Challenge Tests, in which the starting material is contaminated with a defined mixture of chemicals prior to the recycling process.
In the future this will make it easier for sheet manufacturers to obtain approval for their process if they wish to produce sheet for food packaging made entirely or partially of rPET, because with Vacurema technology, even sheet made of 100 per cent rPET satisfies the criteria for direct food contact.
Together, all these criteria give the users of Vacurema technology crucial technological and economic benefits in the production of flat sheet containing rPET – whether it is 100% rPET or mixtures with virgin PET material. This is why the use of the Vacurema Inline Sheet Technology continues to increase continuously and more or less unhindered even in the current economic crisis. A further 22,000 tonnes of installed annual production capacity has been added in the first quarter of this year alone. Systems for throughputs up to 2,500 kg/h are available and in operation for this purpose.
Since it was founded in 1983 Erema has specialised in the development, manufacturing and worldwide distribution of plastic recycling systems and technologies for the plastics processing industry. With its own sales and service companies in the USA, China and Japan, plus around 50 local representatives in all five continents, Erema provides custom recycling solutions to match almost any individual application requirements. Innovative, stable technology and global service support ensure that owners enjoy the maximum benefit from their machines. Erema's technology has become established as a global, leading standard for a wide variety of recycling tasks, ranging from the recycling of polyolefines to polyester (PET).