Erema introduced the new Vacurema Inline Strapping System - from PET bottle flake to high-grade PET strapping band in just one production line.
The system has a throughput of up to 300 kg/h of high-strength strapping band of small cross-section, thus making for an extremely cost-efficient use of raw materials. In Compared to conventional extruder processing systems, the new Vacurema Inline Strapping System achieves both a saving in input material costs of 20 to 25% and a saving of approximately one third of the energy costs, and naturally without any loss of product quality: a strapping band extruded from 100% PCR-PET bottle flake and featuring a cross-section of only 15.75 mm x 0.8 mm has a tensile strength of 513 N/mm2.
The prerequisite for such lowcost, high-quality performance is met by Erema's compact Vacurema technology, which enables the processing of PET bottle flake in one process virtually without any loss of viscosity; the system eliminates the need for precrystallising or predrying.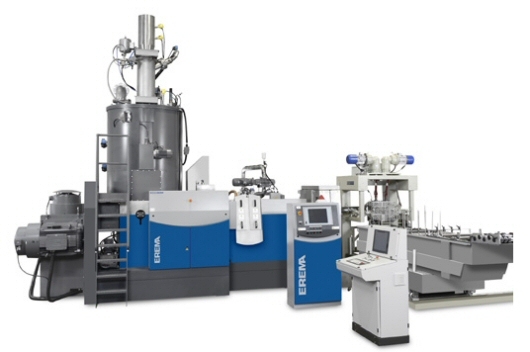 Moreover, the Erema process has an approximately 30% lower power input requirement than a conventional extrusion line with an upstream crystalliser and drier. The system can also process virgin material or blends of virgin material, bottle flake and strapping scrap in any desired proportions. Conversion from one product to another is vastly facilitated by the fast and easy change-over of system components.
Erema's Vacurema technology works with a patented vacuum reactor featuring rotating tools and coupled with a sturdy single-screw extrusion system with high-performance degassing. The starting material, in this case PET bottle flake, is fed into the Vacurema reactor directly via a vacuum lock without any precrystallisation or predrying.
The material is then mixed, heated (through frictional heat alone) and, with the aid of the vacuum, dried, crystallised and freed from any volatile contaminants, all in a single pass. The single-screw extruder (screw diameter 80 mm), which is connected directly to the reactor, plasticises and homogenises the constantly dried material, degassing the melt where necessary (recommended option in the case of high-volatile extraneous polymers or other contaminants) and conveying it without the need for an additional melt pump into a fine filter with an integrated, fully automatic self-cleaning system.
The resulting finely filtered melt is then processed directly into PET strapping bands on the Techno Plastic strapping system, starting with the nozzle unit and proceeding through the stretching, embossing, stabilizing and cooling station to the winder.
The aim behind the development of an optimised system was to achieve the economical processing of PET bottle flake into a high-quality melt without any material degradation, i.e. without any loss of viscosity in comparison to the material fed into the extruder.