Responsible management in plastics processing relies on energy-efficient and at the same time economical technologies. Electrical solutions from Haitian International have been setting new standards with technology to the point for over 15 years. In the process, injection molding machines are constantly adapting to growing requirements and market trends. Advances in digitalization, precise application solutions and innovative options continuously increase their efficiency as well as that of related technologies.
Made by Zhafir
The long-established "Zhafir" brand revolutionized the price level of electric injection molding machines. In 2007, the first all-electric injection molding machine - a Zhafir Venus Series - was delivered in Germany. "Since then, demand for our electric machines has increased tremendously. In the current, as well as in previous years, one in two machines sold was electric. In clamping forces up to 4500 kN, which are rather smaller for us, sometimes even in the range of 70 %," explains Niels Herz, Sales Manager Germany at Haitian.
Not only the acquisition costs, but also the operating and maintenance costs are impressive: With proven energy savings in the mid to high double-digit range, Zhafir sets the standard in terms of efficiency. With clamping forces ranging from 400 to 33,000 kN via application-specific solutions, from all-electric to hybrid, toggle or two-platen, from dynamic high-speed to large, yet affordable, electric injection units, Zhafir offers one of the broadest ranges of electric injection molding machines on the market. Currently, Haitian International Germany is about to deliver Haitian's largest electric toggle machine to date in the German market at 9000kN (13800kN delivered in Europe).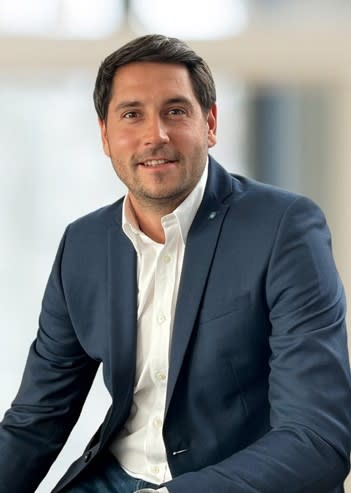 Niels Herz, Sales Manager Germany at Haitian International

Live at Fakuma 2023
The successful Zhafir Zeres Series with integrated hydraulics is showing off as a fast-cycling "F version" and a packaging solution. The cell consists of a Zhafir ZE2300F/830h as well as IML automation, safety fence and conveyor from Pages. A 200 ml container made of PP (MOL Group), labeled by Vappiani, is produced on a 4-cavity mold from Bazigos. Further application data:
Shot weight 32 g
Wall thickness incl. label 0.4 mm
Cycle time 3.4 s
Energy consumption (Machine) ~0.48 kWh/kg
Live in Hall A1 / 1103.
Electrical Zhafir Zeres Series