Teknor Apex introduces a 'broader and more globalized' range of engineering thermoplastics to the European marketplace.
Teknor Apex Company, one of the world's leading custom compounders, has restructured and expanded its portfolio of engineering thermoplastic (ETP) compounds for use by European processors, offering products ranging from general-purpose formulations to a wealth of specialty modified grades, and now including many polyamide (PA) compounds developed in the USA for automotive applications. The company will introduce its expanded ETP offering at Fakuma 2012.
"At Fakuma, Teknor Apex will reintroduce itself as a leading compounder of ETP solutions," said Neil Croucher, sales and marketing director. "We now offer European customers a product range that is broader and more globalized than ever, providing customers with an unlimited choice of custom formulations based on PA, PET, and PBT, along with full technical backup, product development support, localized service, and worldwide availability for any compound required by companies that manufacture internationally."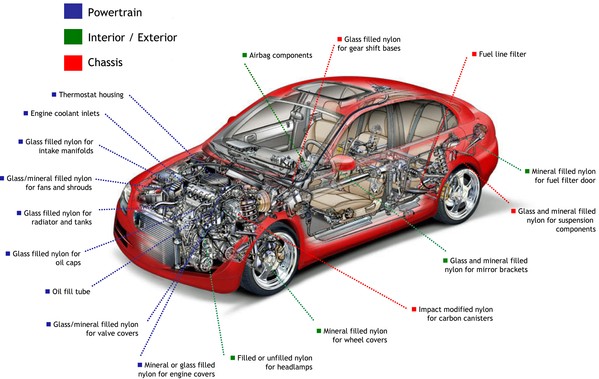 ETP products offered throughout Europe by the Engineering Thermoplastics Division of Teknor Apex are available in reinforced, filled, lubricated, stabilized, flame retarded, and other modified formulations, including standard, custom, and color-matched compounds. The products now fall into two broad families:
● Beetle range of PA, PET, and PBT compounds includes products for automotive, electrical, consumer, industrial, construction, sport and leisure, and wire coating applications. A special series of "economy nylon" compounds called Beetle-E has been developed for general-purpose applications and is available in non-reinforced and glass-filled versions and in black or natural color.
● Chemlon PA compounds for automotive applications include dozens of formulations developed for powertrain, chassis, exterior, and interior components, with approvals from Chrysler, Ford, and General Motors.
The latest example of a PA automotive compound available worldwide is the new Chemlon 800 Series of injection molding compounds. These are based on polyamide 6 /12 but provide comparable performance in the fuel-line components that comprise the major application for polyamide 12. The new compounds provide a practical alternative for processors amidst industry concerns about PA 12 supplies.
Teknor Apex produces PA compounds in the UK, the U.S.A., and Singapore. The company's ETP product range is supported throughout Europe by a network of distributors.