New Selogica "Set-up Assistant" module enables installation technicians to perform simple, quick and reliable set-up of Allrounder injection moulding machines without detailed knowledge of the control system.
The set-up assistant accompanies the installation technician throughout the set-up process – from installation of the mould through to automatic initial calculation of the parameters and the finished sequence.
Arburg produces its Selogica machine control system completely independently and subjects it to continuous further development. From the outset, the philosophy has been the simple and reliable control of complex processes. This is an increasingly important requirement as processes become more and more complex. With its graphic user interface, sequence editor and patented, real-time plausibility check, the fully user-oriented control system provides for intuitive machine and peripheral management geared towards the actual sequence.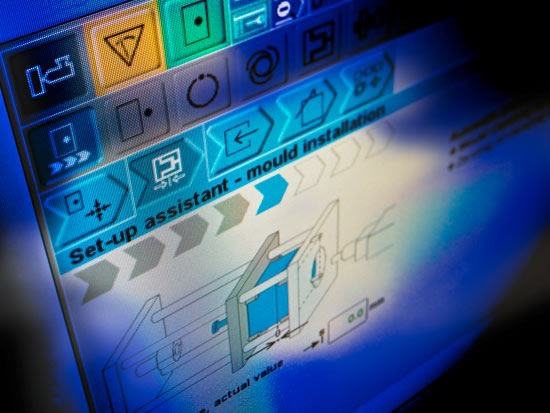 As a pioneer in the field simplified and integrated control technology, the next development step for expansion of the Selogica system was a logical one for Arburg. If menu-guided, accompanied set-up, or so-called "teach-in" of robotic sequences is possible, then why not apply the same principle to the entire injection moulding process? With the new Selogica "Set-up Assistant" module, Arburg is introducing a unique and very simple human/machine interface into injection moulding technology, enabling super¬vised set-up or "teach-in" functions for the entire machine sequence. Installation technicians are actively supported during set-up. It takes only five menu-guided steps to create a complete sequence.
Step-by-step guidance for all the necessary actions reduces parameter entry to the absolute essentials. The machine sequence is confirmed (taught) at the click of a button, the same as when setting up Arburg robotic systems. Detailed knowledge of the control system is no longer necessary. Moreover, the system allows for subsequent adaptation of parameters and sequences at all times.
In the first step, the installation technician selects the necessary machine functions with which the Allrounder is to operate, such as ejector, core pull or sorter unit. The available selection options depend on the machine equipment.
In the second step, the set-up assistant actively supports mould installation. It specifies the optimum sequence of operating steps. These only need to be consecutively performed and confirmed. The installation technician selects the necessary sub-sequences, such as referencing (zeroing) of individual machine axes in a central screen page and starts them with the single push of a button. The control system then performs the relevant task automatically. A schematic display acts as an additional guide and no parameter entries are required.