Systec multi: fibre optic cables with two-component injection moulding
Sumitomo (SHI) Demag now offers its fully controlled, hydraulic all purpose Systec machine in 19 sizes, with closing forces from 350 to 20,000 kN: up to 1,200 kN with a fully hydraulic closing unit, from 1,300 kN onwards with a knuckle-joint closing unit. Optional, additional injection units from the Demag modular system can be adapted to enable the machine to be equipped as a Systec multi for multi-component technology.
At the Fakuma 2011, a Systec multi 160/520-310h/80v (1,600 kN) with a double turntable mould from HBW-Gubesch Kunststoff-Engineering GmbH, Emskirchen, will be producing a 4.1 g fibre optic cable made from transparent PMMA. This cable is used for illuminating the gearshift pattern of a selector lever used in a passenger car. The second material component, a coloured transparent PMMA, is moulded-on at various points in order to give the emerging light the required colour. The particular challenge with this component lies in guaranteeing the defined light conduction in the component and that the light emerges at the required points. As a result, this demanding application clearly demonstrates the high precision and reproducibility of the fully controlled hydraulic Systec machine.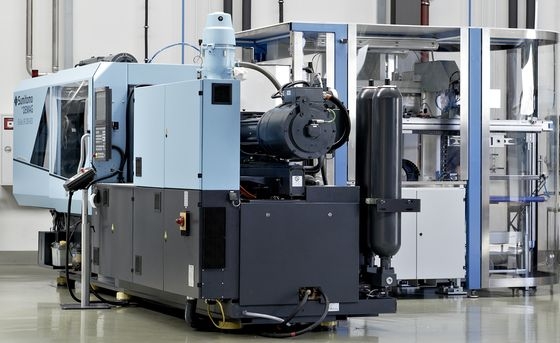 Trend topic: Injection moulding of optical components
"Optical injection moulded components are becoming increasingly important. One main area concerns ambient lighting in cars. We will be casting light on this complicated topic in a separate information area and, in addition to our exhibited machine, we will be cooperating with experienced partner companies to provide specific information about fibre optics, thick-walled lenses as well as flexible fibre-optic cables and lenses made from silicon," explains Bernd Tröger, the head of Marketing at Sumitomo (SHI) Demag.
Systec multi on the Sepro Robotique GmbH stand
Another multi-component Systec multi machine will be working on the stand of our partner company Sepro Robotique GmbH, based in Rödermark. The 2,100 kN version will be producing ashtray trims by injection moulding using a double mould from HBW-Gubesch. The visible part for the interior of passenger cars imposes exacting requirements on the surface quality. The parts handling is performed by an SDR linear robot of the new generation. In this exhibit too, the operation of the linear robot is directly integrated into the NC5 plus injection moulding machine controller.