SABIC demonstrates its leadership in innovative, lightweight composites for automotive industry.
SABIC Innovative Plastics and SABIC PP Automotive are introducing SABIC`s expansive, world-class portfolio of lightweight, high-performance thermoplastic composites for automotive applications.
These reinforced materials range from LNP Thermocomp and LNP Verton specialty compounds for demanding interior and underhood applications, to the global introduction of SABIC Stamax resins for door modules and instrument panel carriers, to the newly introduced AZDEL IXIS 157 composite for vehicle hoods and roofs. SABIC`s broad portfolio of composites enable the use of technologies such as in-mold decoration for special effects, and heat and cool molding for improved surface finish. The company is a global leader in thermoplastic composites with strong insight into the future needs of the automotive industry.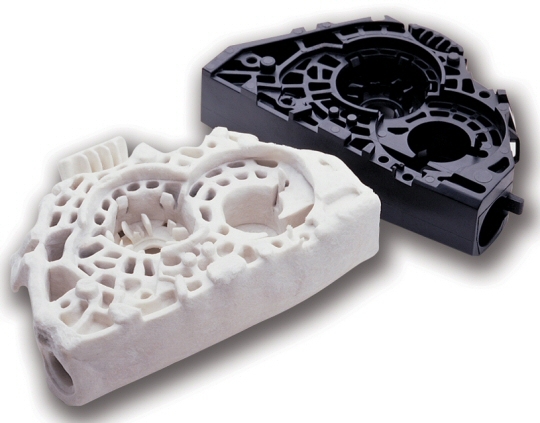 - High-performance composites, such as our LNP specialty compounds and SABIC Stamax resins, are increasingly in demand by automotive designers and OEMs for replacement of steel to reduce costs and weight, increase design freedom, simplify recycling and enhance safety - said Greg Adams, vice president, SABIC Innovative Plastics, Automotive. - But the diversity of automotive components calls for an equally broad and deep choice of composites - and that is where SABIC Innovative Plastics can help. We have developed a solid portfolio of composites offering many different base resins and loadings to meet the specific requirements of applications from large, horizontal body panels to instrument panels.
One addition to SABIC Innovative Plastics` LNP composites offering is a new bio-based material. The company is developing the use of natural, sustainable fibers from the curauá plant and wood shavings for reinforcement. These strong but lightweight fibers can reduce overall composite weight compared with glass fibers, while improving recyclability.
- Today, SABIC`s broad offering of thermoplastic composites is represented for the first time on a global basis - said Mark Neville, business unit director of SABIC PP Automotive. - The automotive industry is an extremely important market for SABIC as evidenced by our longstanding collaboration with many OEMs.
The introduction of SABIC Stamax long-glass fiber materials to our global customers will help them by providing lightweight solutions for improved fuel economy. Together with the existing portfolio of products from SABIC Innovative Plastics and IXIS technologies from Azdel, SABIC is helping manufacturers comply with environmental and safety legislation and meet demand for better fuel performance.