'Foilstar' applies the metallised foil. This is a modular mounting module from Heidelberg. The 'Foilstar' enables us to apply a layer of aluminium foil where required, onto any foil within our range. You then have the option of keeping the natural colour of the metallised foil (silver) or applying up to 8 colours on top of the metallised layer. This creates multiple possibilities: by printing yellow onto the silver layer, you get gold; text in a PMS colour can take on a metallic effect, etc.
By printing a PMS colour or CMYK on top of the metallised foil, the original shade changes slightly. To help you, you will find an A4 sheet with a selection of metallised colour combinations enclosed.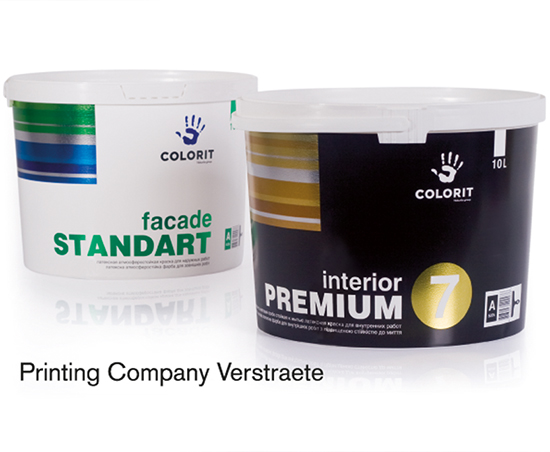 In addition, our order preparation and prepress departments are always ready to provide you with further advice. In the past, it has not always proved easy to load up metallised labels. However, by optimising our production process, in most cases our metallised labels can be processed in exactly the same way as our standard IML labels. Which market segments does this apply to?
Metallised IML labels are used in the following sectors:
Paint industry
Cosmetics
Exclusive foodstuffs
Storage Boxes
Various injection moulders and end customers were extremely enthusiastic about this new IML application, and were keen to test our metallised labels.
The first orders were not long in coming!
The Polish Plast-Box broke the ice with a project in paint packaging. The Finnish Tikkurila Paints & Coatings chose to market their high-quality Colorit range in 3-, 5- and 10-litre tubs with metallised IML. The tubs are produced by Plast-Box's Ukrainian sister company.
More info:
www.packaging.plast-box.com
www.upakuvanya.ua.plast-box.com
The Dutch company Sunware, producer of all manner of plastic storage products, has also been won over by our metallised IML labels. As a European market leader in, among other things, storage boxes for Christmas items, Sunware exhibited their Christmas boxes with metallised IML at one of the key trade fairs. Reactions were extremely promising and expectations were high.
More info:
www.sunware.com