The KyroSys extrusion line offered by Austrian machine manufacturer Cincinnati Extrusion has helped KNG Awans, a company based in Czarnków, Poland, to produce PE multi layer pipes more efficiently.
KNG Awans Sp. z.o.o. is a producer of water, sewage and pressure pipes made from PE 100, PE 80 and PVC, as well as PVC pipe fittings for the domestic market.
Several plans had already been in existence for expanding the production capacity, but the limited length of KNG's production hall had presented serious problems. With the KryoSys line now ordered from Cincinnati Extrusion, however, KNG Awans can produce HDPE 3-layer pipes with a thin outer PP-H layer in diameters from 90 to 630 mm and a layer distribution of 25% / 50% / 25% on an extrusion line almost halved in overall length.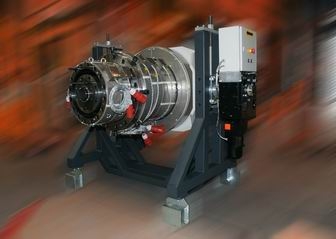 The line consists of two monos+ 60 single-screw extruders for the two HDPE layers and a talos 45 as co-extruder for the thin outer PP-H layer. The pipe head, a KryoS 63-1200 3-Coex, ensures excellent distribution accuracy while keeping the length of the entire line short thanks to its integrated melt cooling system.
The monos+ series is recognized as a high-performance solution for the production of PP and PE pipes. It features an innovatively designed feed zone with grooved feed bushing, optimized screw geometries and proven PFT power feed technology. Moreover, monos+ extruders are equipped with temperature regulation controlled by proportionate magnetic valve technology in the feed zone as standard, to ensure a consistent, optimal temperature for every type of material.
Talos single screw extruders can be used for many different applications, thanks to their wide processing window and high quality. They feature direct drives with constant output for silent run and resistance to wear. They also require less floor space due to their compact design, and their modular concept enables easy installation and configuration to suit each production process.
Like all Cincinnati extruders, monos+ and talos models are equipped with maintenance-free AC motors with frequency converters. In addition to low-noise operation, these asynchronous motors offer the special benefit of low energy consumption under partial load. For perfect synchronisation of the line, CAN-BUS downstream interfaces are used and EXcProXP-touch 17" controls offer an easy and clear-cut overview of extruder and line specifications.