ECCtreme ECA from DuPont is a new family of melt-processable high-temperature perfluoroplastics (HTP) that can withstand continuous-use temperatures of up to 300°C. They thus significantly break the standard perfluoroplastic barrier of 260˚C for continuous use when tested according to ISO 2578. At the same time, this new class of materials offers all the benefits typical of these plastics such as good chemical and permeation resistance, excellent dielectric properties and a low coefficient of friction. After comprehensive mechanical, electrical and fire tests at thicknesses of 0.75 mm and above, UL has classified ECCtreme ECA in class V-0 and confirmed electrical and mechanical RTI values of 300°C (RTI = Relative Temperature Index to UL 746B as a measure of the thermal aging resistance at elevated temperatures). This is the highest RTI value of all plastics registered in the UL database (UL Component File E54681).
Accordingly, molded parts, pipes and hose as well as sheathings for cables, wires and sensors for very harsh ambient conditions are among the main applications for ECCtreme ECA. Examples of possible applications in the chemical industry are pipe, hose and tank linings, valve seats and valve stem packings as well as linings for valves, fittings, pumps, flow meters and heat exchangers. Other potential areas of application include geothermal energy generation, energy production, semi-conductor manufacture, the oil and gas industry and the aerospace industry. Applications in the automotive segment cover cable ducts and protective sheathing for Lambda probes and exhaust gas sensors, which are usually accommodated in a very limited space and are therefore exposed to exceptionally high service temperatures.
DuPont's new ECCtreme ECA fluoroplastics can be extruded, compression-molded or injection-molded on the same machines and with the same productivity as the corresponding standard types of perfluoroplastics. Their outstanding properties are derived from a several-day post-heat treatment at a temperature of around 300°C after processing, ideally in-situ.
With significantly reduced flow properties but largely the same mechanical properties, the heat-treated ECCtreme ECA (Epitaxial Co-crystallized Alloy) offers a melt point around 5°C higher at over 320°C. Other advantages compared with the starting material are higher thermal resistance, a flex life (MIT flexural test) that is many times higher than before, and higher stress crack resistance and permeation resistance. As a result, ECCtreme ECA allows not only higher long-term service temperatures but also longer service life in existing applications.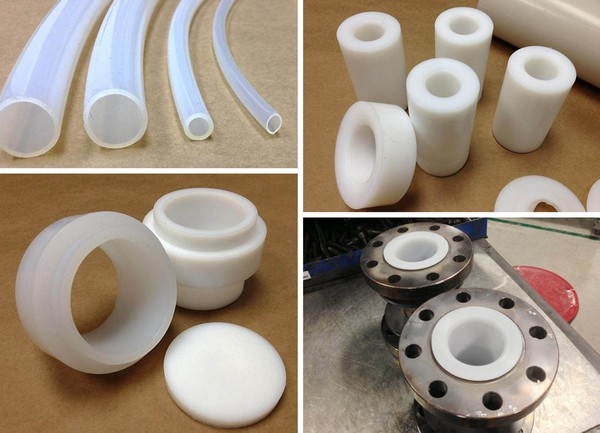 At present, three types of ECCtreme ECA are available with different melt flow rates (before and after heat treatment) for a broad range of applications. Alongside the universal grade ECA 3000, there is ECA 4000, which is intended primarily for wire and cable insulation and offers the lowest viscosity, and ECA 2000, which has the highest viscosity and is well suited for the chemical process industry, with flex life increasing with the viscosity (see graph).