BASF is adding three new products from two classes of material to its medical-technology plastics portfolio identified by the suffix "PRO".
In the POM product line (POM: polyoxymethylene; polyacetal), these are the two new grades Ultraform N2320 003 PRO and Ultraform H4320 PRO. They are joined by Ultradur B4520 PRO, BASF's first PBT (PBT: polybutylene terephthalate), which is optimized for applications in medical technology. These three new "PRO" grades will be available in commercial quantities starting in February 2011.
For several years now, BASF's S and W grades in the Ultraform PRO portfolio have been the company's only engineering plastics for applications in medical technology. Ultraform N2320 003 PRO is a new injection-molding grade with a higher viscosity. It is well-suited for the production of thick-walled components that also make high requirements in terms of mechanical strength. Thanks to its high impact resistance and stiffness, this new Ultraform N grade may just be right for the manufacture of highly stressed elements such as functional parts in insulin pens, atomizing devices and dry-powder inhalers.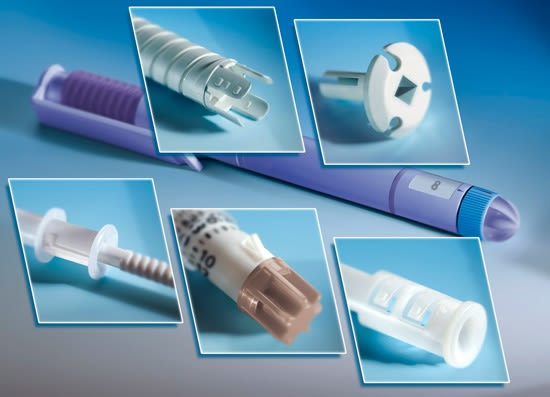 In contrast, the likewise new Ultraform H4320 PRO has been tailored specifically for processing by extrusion at high ejection speeds. It has an even higher viscosity than the Ultraform N grade, it is more impact-resistant while also being very stiff as well as strong, and it displays good thermal stability. Its target applications are plug-in connectors, handles of surgical instruments and other components in small production runs that are made from semi-finished parts.
With its Ultradur B4520 PRO, BASF is launching its first PBT for injection-molded applications in medical technology. In the new Ultradur PRO, the well-known high dimensional stability of PBT has been combined with an optimized shrinkage behavior, so that this product now meets the stricter requirements made of the dimensional accuracy of components intended for medical devices. Other advantages of this material are that it absorbs very little water, is highly resistant to many chemicals, can be easily printed on and sterilized with ionizing (gamma) radiation or ethylene oxide.
The combination of plastic parts made of Ultraform PRO and Ultradur PRO translates into additional synergisms: for instance, insulin pens with excellent sliding friction properties can be produced with these materials. Here, Ultraform PRO accounts for low friction between the individual functional parts while Ultradur PRO, as the sliding member, reliably prevents annoying noises during use.
When it comes to ensuring patient safety, it is indispensable to have a trusting and dependable cooperation between plastic manufacturers and producers of medical devices. With this in mind, BASF offers its plastics from the "PRO" family (PRO: profile covered raw materials only) together with a comprehensive service package that has been adapted specifically to the requirements of this market.