Akulon fuel lock from Dsm Engineering Plastics promotes cleaner air by minimizing evaporative emissions from fuel tanks.
DSM Engineering Plastics has launched a unique new material that can make a significant contribution to air quality. Akulon Fuel Lock, a mono-polyamide 6 technology, dramatically reduces evaporative emissions from the fuel tanks of non-road outdoor equipment and vehicles with small, spark-ignition engines. In fact, tests of a tank with a nominal 2 mm wall thickness molded from Akulon Fuel Lock showed an exceptionally low evaporative emission rate less than 20 percent of the US Environmental Protection Agency (EPA) regulation limit.
Such ultra-low emissions not only comply with tough agency regulations, but also enable thin-wall designs that reduce system costs. Akulon Fuel Lock further supports sustainable practices by avoiding fluorination, a traditional barrier technology for high-density polyethylene (HDPE) that can pose environmental risks.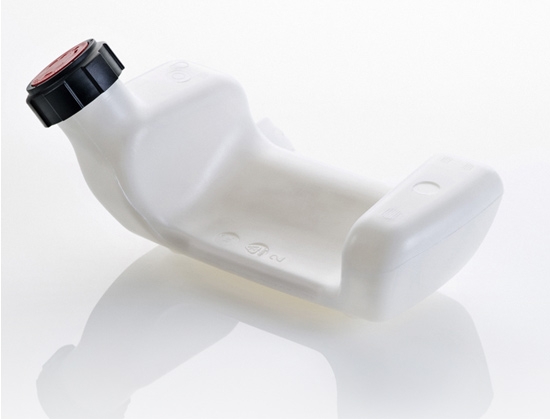 The new Akulon material for injection and blow molding applications provides outstanding resistance to permeation right from the container, without the need for additives or post-molding treatments. As a mono-material, it simplifies processing, compared to expensive multi-layer fabrication technologies. Translucence makes it easy for consumers to visually determine the fuel level in the tank.
"There are millions of lawn mowers, off-road vehicles and other small-engine devices whose fuel tanks emit hazardous substances into the atmosphere." said Ralf Ponicki, Global Segment Manager Outdoor Power Products. "As part of DSM's proactive sustainability efforts, we have created a new material that dramatically improves protection against fuel tank emissions during start-up, operation and storage. This is a major accomplishment that will ultimately contribute to the remediation of an estimated 250 kilotons of hydrocarbon emissions and other pollutants and help improve air quality in North America."
Akulon Fuel Lock solutions' exceptionally low permeation rates in combination with high impact resistance down to -40ºC offer customers the ability to design thinner-wall fuel tanks that reduce weight and material. Other cost advantages are easy processability and the ability to utilize standard injection molding and blow molding tools and machines currently used for HDPE.
In 2008, the EPA enacted legislation that restricts the amount of evaporative fuel emissions allowable from small, spark-ignition, non-road engines. This classification includes all ground-supported power products (lawn and riding mowers, commercial turf equipment, generators and snow blowers), handheld equipment (chainsaws, string trimmers, blowers and clippers), utility vehicles (ATVs, UTVs, golf carts), and marine (personal water craft, portable and fixed non-diesel tanks). In addition to direct review and approval of these low permeation tanks, the EPA will test units from retail outlets for compliance. Manufacturers that fail to meet the regulations can be fined up to US$10,500 / day /unit and be required to recall and remediate these failures.