With the 22nd Fakuma international trade fair for plastics processing, to be held at the Friedrichshafen Exhibition Centre from 16 to 20 October 2012, the plastics industry is sending out a strong market signal: injection moulding, thermoforming, extrusion technology, tooling, materials, purchased parts and services – Fakuma will showcase the entire world of plastics technology in all of its aspects.
Beginning with technologies for plastics processing, expert visitors will also be presented with subsystems and complete solutions, as well as all of the imperative peripheral modules for economic production of high quality plastic products.
Precisely 1671 exhibitors from 35 nations around the world are currently registered for the event. More and more exhibitors come from distant foreign countries (Asia) who view Fakuma, on the one hand, as an prime benchmark for global market opportunities and, on the other hand, as a springboard for penetrating well established markets in high-wage European countries. Conversely, this results in increased marketing activities for European exhibitors, for instance participation at Fakuma, for which reason the modern trade fair facilities in Friedrichshafen on Lake Constance have been fully booked out for Fakuma 2012.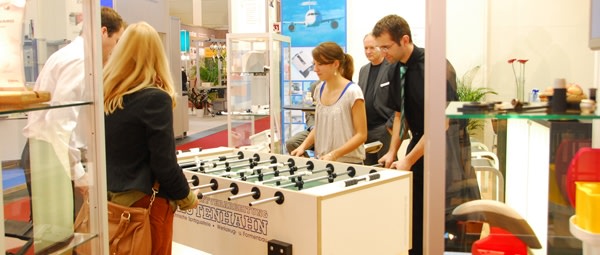 The 12 halls at the exhibition centre where Germany, Austria and Switzerland meet, as well as both foyers at the east and west entrances, with available overall exhibition floor space amounting to 915,000 square feet, will be completely occupied. Fakuma is thus once again demonstrating its brilliant suitability as a highly practical, market-oriented information, communication and business platform for all issues in the field of plastics technology. At the same time, the plastics industry is displaying its indifference towards the econo-political chaos associated with the real or virtual Euro crisis, especially in light of the fact that globalised production networks have a positive effect and smooth out the fluctuations.
In order to maintain their global competitive edge in the long-run, plastics processors are increasing investments in automation technology – in the automation of processes and quality assurance, as well as in production and assembly automation through the procurement of handling, robot, feed and material flow equipment. This business will continue to grow for years to come, because low-wage countries in Asia and emerging, newly industrialised nations in Africa have also recognised the fact that they won't stand a chance without good, and above all reproducible product quality, because demands are becoming stricter and stricter everywhere.
Information and communication offerings will be rounded out at Fakuma with the time-tested, once again completely booked out "Exhibitor Forum" in the foyer at the east entrance (to which trade fair visitors are admitted free of charge!) and the "Medical Engineering" theme park in the foyer at the west entrance, which already demonstrated great drawing power at the last Fakuma in 2011