Moretto USA LLC, daughter company of Moretto S.p.A., the leading Italian provider of Material Handling, Drying, Blending, Heat Transfer and Size Reduction equipment, will attend NPE 2018 in Orlando, Florida, the world's leading trade show event for the plastics industry.
Since 1980, Moretto has been providing plastic processors with integrated systems and auxiliary equipment solutions, enabling process automation and optimization, particularly for the high precision requirements of the injection molding of PET preforms.
Providing innovative standard as well as customized systems, Moretto's goal has always been to maximize process efficiency, guarantee final quality and energy savings for their worldwide injection molding, extrusion and PET processing customers. Moretto strengths include not only precise, innovative equipment, but in-depth pre and post-sale service targeted to measurably improve the customer's production processes, and assure easy and intuitive operation by users of all skill levels.
Moretto USA, celebrating multiple years of both commercial success in the US and their recent relocation to a new, centrally located facility in Western Pennsylvania, will be proudly displaying the complete Moretto product range at NPE 2018.
Central in their presentation will be the integration of every device through Moretto Smart Factory 4.0, showing how machines and software are inter-connected, allowing constantly-refreshed data to always be available for achieving the highest possible levels of efficiency. Plus, particular attention will be dedicated to the resin-drying process, with the presentation of the revolutionary Moretto Eureka Plus drying system.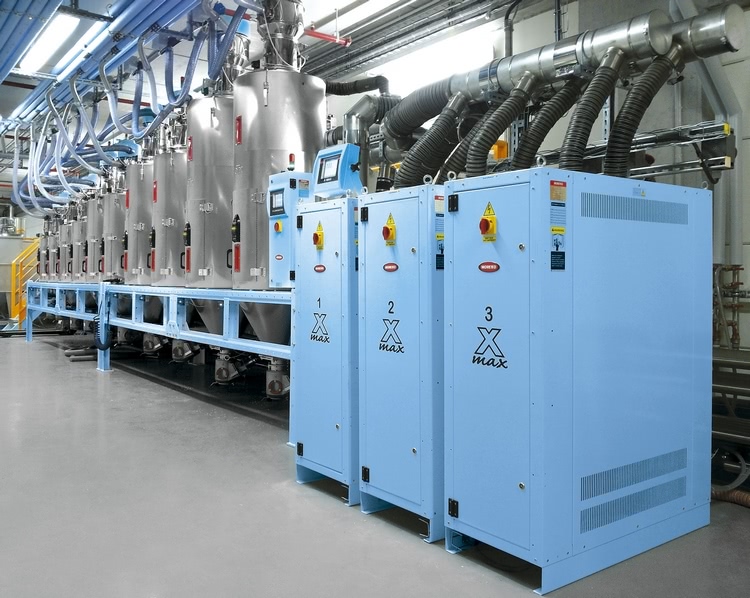 At NPE 2015, Moretto originally introduced Eureka, an innovative drying system designed to continuously reduce energy consumption and improve drying performance, particularly for PET, where energy efficiency can make the difference in profitability for processors. Steeped in continuing research, the ambitious Eureka project included more than 15 years of studies, tests and simulations. And now, at NPE 2018, Moretto is proud to present the latest evolution, Eureka Plus, claimed to be "the most advanced low consumption drying system available on the market". Processors that have adopted Moretto Eureka PLUS drying systems have enjoyed an average 56% reduction in energy consumption compared to conventional drying systems.
Eureka Plus is comprised of four Moretto-patented technologies:
Moisture Meter Manager, a revolutionary, real-time moisture analyzer,
X MAX, a high performance, multi-bed dryer with consistant dewpoint,
Flowmatik, a dynamic airflow management device, and
OTX, drying hoppers with superior mass flow drying characteristics.