At K 2013 in Düsseldorf KraussMaffei Berstorff will present its global system competence for sustainable production solutions. With its wide-ranging product portfolio and the continuous technological developments KraussMaffei Berstorff is supporting the global trend towards sustainable production in various ways such as high system availability, optimal performance and first-class product quality; criteria which combine processors under the requirement for "Overall Equipment Efficiency".
Expansion of product portfolio for sustainable production
The established values obtain long-term practical relevance for the processors with respect to the industry event K 2013 thanks to various technological developments. "We are supporting our customers in their efforts towards sustainable production by focussing on the further development of machine and system concepts which have been successful for many years," highlights Peter Roos, President of the Extrusion Technology segment and the KraussMaffei Berstorff brand. "We are offering our customers an even larger product portfolio both in machine technology and in technological know-how and expertise, with which we are showcasing ourselves at K 2013," adds Roos.
Quick dimension change with QuickSwitch - extended to the 250-450 mm diameter range
The proven system guarantees extremely economical use of energy and material during the dimension change. Another advantage of this highly elaborate technology is the maximum system availability for the processor. "Our unique system is now also successful when used with pipes with a larger diameter (250-450 mm)." The enormous advantages carry weight here as the retrofitting is significantly more complex for larger diameters," explains Roos. "With our QuickSwitch system we fully satisfy our claim to offer the customer a system with maximum availability," delights Roos.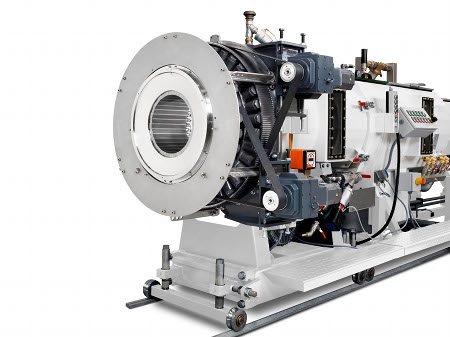 Innovative IPC system for internal pipe cooling also for QuickSwitch technology
Each PO pipe extrusion system (for 110-2500 mm diameter range) and QuickSwitch systems can be equipped with cost-saving IPC technology. This gives manufacturers a big competitive edge because the efficient internal pipe cooling system offers even better cost efficiency. In addition to external cooling, the pipe is also cooled from the inside using ambient air, which is suctioned with help of a side channel compressor contrary to the extrusion direction. As well as reducing space and investment costs, this also leads to sustainable production as the cooling water consumption is reduced and ambient air is used.