Three major pioneering technologies for barrier packaging
Waldorf Technik has not just remained on the sidelines, waiting for attitudes to change in the packaging sector, or for others to get to the starting blocks first. The company has for some time now been extensively involved in research on and practical implementation of forward-looking packaging technologies, providing precision plastics solutions that will benefit not only consumers but also manufacturers in that industry. During the past seven years of intensive development in this particular field, the Waldorf Technik research team has perfected three major ground-breaking methods for rigid and semi-rigid barrier packaging solutions, where innovation, reliability and precision, consistently high quality, high-speed and high-volume production, efficiency and, above all, a high regard for environmentally friendly production are the guiding criteria for the company – seen not just as a duty, but as an opportunity. Furthermore, plastics packaging beats conventional solutions by light weight and very low transportation costs.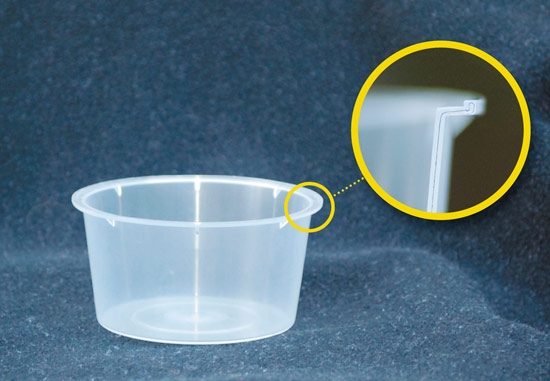 TECHNOLOGY I – In-mould Labelling with Barrier Label
This process, primarily providing small to medium-size production options, is already well tried, tested and operational, and provides wrap-around and bottom label packaging solutions, with close overlap of all label seams. The barrier label comprises a) an ultra-thin multilayer with EVOH, b) a SIOx-coated barrier film, or c) an aluminium foil barrier, all providing a retortable solution. Excellent sealing properties protect against two-way oxygen or water vapour migration. To date, a maximum of 8-cavity or 2 x 6-cavity production process achieves highly attractive decoration and solutions in a variety of shapes. A vast array of products such as soups, fruit, vegetables, cheese, coffee, sauces, dips, baby food, body and health care products, pet foods and other preserves are thus filled aseptically, frequently under clean-room conditions. EVOH (Ethylene Vinyl Alcohol) is a formal copolymer of ethylene and vinyl alcohol which is frequently used in food applications.
TECHNOLOGY II – 2K Injection with PP and EVOH
This production process, tailor-made for high volume packaging applications and therefore in the stronger focus of the packaging market, is presently introduced to the market, where glass and tin containers are traditional competitors. Here, 2K injection of a retortable ultra-thin 3-layer structure (PP–EVOH–PP), including bonding agent, offers a repeatable process without cycle-time influence by barrier application in a high cavitation, i.e. 32-cavity or 64-cavity stackmould configuration. This injection process has been known for years, but in the past there existed no proof that the EVOH barrier layer was fully and equally injected throughout the complete body of the container, but this obstacle is over now by the newly developed and globally unique Check´n Pack EVOH system.