A notable differentiation is evident in consistent and precise sealing rim thickness. However, specific downstream automation may be required, i.e. 64-cavity, 6 sec for some applications, providing 100 percent inline control of complete EVOH layer, 100 percent inline extraction of rejects, and a 100 percent fully automated process and logistics system. As EVOH has rarely been used in injection moulding due to lack of traceability or reliable test methods, one critical factor is that EVOH is not detectable by standard inspection systems. The Check´n Pack EVOH inspection and visualisation module allows 360° rim, 360° side wall, bottom and injection point inspection. This module represents an exclusive brand of Waldorf Technik. Furthermore, barrier levels of both O² and H2O vapour are very high and allow – according to KORTEC Inc., the supplier of the mold technology – a shelf life of up to 2 years.
Numerous high volume products, such as fish, meat, fruit, pet food, are either retorted or aseptically filled. Switching to this technology, savings in production and logistics are typically about 30-40 percent, compared with those of tin plate containers for example. In addition, conical shapes, conveniently stackable, offer major space and weight benefits.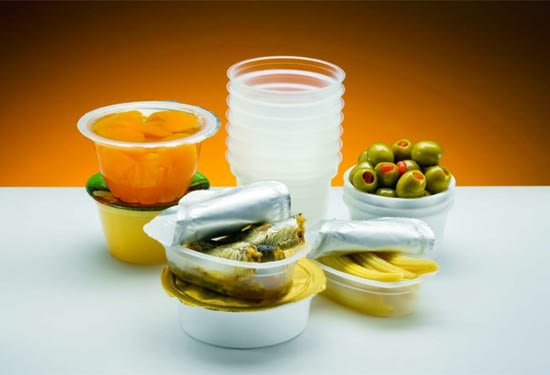 TECHNOLOGY III – 3D in-line coating for thin-wall packaging
This process involves 3D in-line vacuum coating with various CAVONIC coating substrates, providing an extremely low-cost option with solid barrier and similar hermetic property to glass. One of its major advantages is the suitability for existing injection moulding processes, together with total and safe protection against softener migration into container contents. "To date, laboratory tests have been successful, i.e. ready for the aseptic process, with the target of complete sterilisation. Barrier against oxygen permeability currently achieves 99.15 percent (130 → 1.1 OXTR) after sterilisation. In addition, the combination of thin-wall performance, superb barrier properties and low production costs make this technology – able to be adjusted to biodegradable polymers – a most attractive commercial proposition," concludes Czizegg.
With this degree of innovative specialisation in all three technologies, Waldorf Technik has reached a leading position worldwide. "These partly exclusive colaborations with CAVONIC GmbH, the leader in the barrier coating technique for consumer packaging, or KORTEC Inc. brings our customers in the lead and may revolutionize the preserve market", Czizegg describes customer reactions. These solutions, combined with others already 'in the pipeline', are the direct response to Waldorf Technik's recognition of and reaction to the growing demand for ever safer, faster and more productive manufacturing processes with state-of-the-art engineering power. With its 100 employees, the company is mainly active in Central Europe, Scandinavia, the EU, the Middle East and North America where a subsidiary company has been established in 2008. The recent award of 'Top 100' company' recognizes and honours the company for a second time as an exceptional and vigorous innovator among medium-sized companies in Germany.