When the production of blow moulded industrial items is high, is it better to choose more single-cavity machines (doubling the cost of investment, the floor space and energy consumption) or a multi-cavity machine, which minimizes all these costs, but makes production less flexible?
ST ASPI 150.3 DUO was conceived for the production of 3D articles blown, using the parison suction process, to answer this question. It doubles the production output of a single machine without doubling its investment and operating costs, whilst at the same time providing great flexibility of use. Like all the models of the ASPI series, the DUO can also be used for 2D blowmoulding: each clamping unit is in fact prepared for the installation of a blowing unit from the bottom (optional), complete with nozzle and spreaders.
The machine structure is based on two side-by-side clamping units. An accumulator extrusion head and the related extruder move on the upper platform to alternately feed the two moulds according to the cycle rate. It is a solution that offers a very small machine footprint (the clamping units are static: no movement tracks, no pipes that move back and forth and no cable chain). It offers perfect accessibility to the moulds (the clamping units - "tiebarless" type - are accessible from both sides) and great quality consistency (because a single extrusion head guarantees maximum production uniformity).
The first model of ASPI 150.3 DUO was recently installed in the USA, and has attracted the interest of other customers who seek high production rates, without compromising on quality. And the flexibility of production? The cycle parameters can be set separately for each of the two moulds, such that the machine can handle two different recipes at the same time. When production needs require it, two different moulds can be mounted to fully exploit the machine's potential.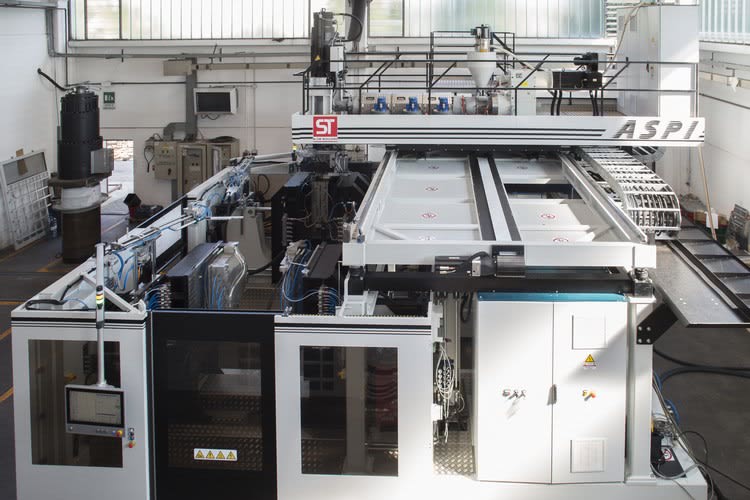 Source: ST Soffiaggio Tecnica Srl