Exhibitors in all exhibition segments had prepared for K 2016 for months in order to face international competition with convincing innovations. And they met with enormous approval: trade visitors were thrilled with the wealth of new technical developments presented to them by raw materials producers, machine manufacturers and producers of semi-finished and technical parts. Over 70% of visitors confirmed having received information on news and trends. By their own accounts, numerous visitors wish to immediately convert these new insights in investment: 60% of industry decision-makers said they had visited the trade fair with concrete intentions to buy while 58% had already found new suppliers. With these new purchases visitors first and foremost pursued three objectives for their enterprises: expand their product portfolio, extend production capacity and increase efficiency. The results of the visitor survey also confirm the positive business situation in the downstream sectors of the plastics and rubber industries: 60% of the visitors polled rate the current situation as "very good" and "good" while the same percentage even expect the situation to improve over the next twelve months.
Energy, material and resource efficiency were the dominating themes at K 2016. Also meeting with avid interest were new materials, innovative recycling concepts, new application areas for organic plastics and additive manufacturing. Smart, quick and flexible lines and services were in high demand among customers; Industry 4.0 dominated not only lectures and discussions but was also demonstrated hands-on at many stands. Commenting on this Ulrich Reifenhäuser said: "The possibilities the Internet of Things brings stimulates strong, serious interest - especially among younger, IT-savvy customers from throughout the world. Industry 4.0 is a theme of the future that will keep us busy for years to come." Machine and plant manufacturing, which occupies the biggest exhibition area at K 2016 with over 1,900 exhibitors, was also the centre of attraction for visitors; a good two thirds of all experts polled ranked this segment first. 46% said they were predominantly interested in raw and auxiliary materials, while for 25% semi-finished products and technical parts made of plastic and rubber were the main reason for coming (multiple choice possible). Albeit the smaller sector of the two, the rubber industry made a highly visible appearance at K 2016 and underscored its importance in the areas of mobility, leisure, household and energy.
Visitors came from all important user industries - from the construction sector and automotive to packaging and electrical as well as medical device technology not forgetting agriculture. They all again gave top scores to the ranges on display in the 19 exhibition halls: 97% ensured that they had reached their goals 100% while 96% said they were impressed with the line-up at K 2016.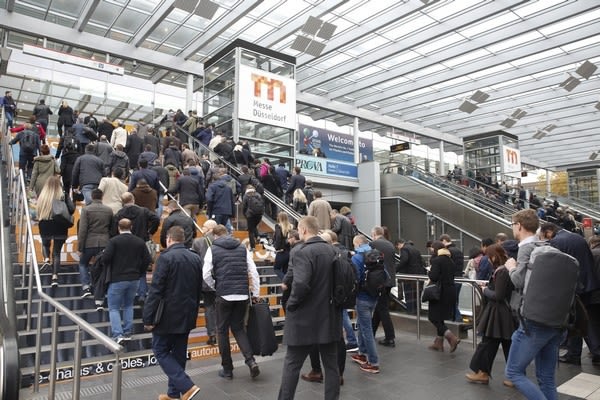 Also going down well with the experts from throughout the world was the line-up of accompanying events at K 2016, especially the Special Show "Plastics shape the future" and the Science Campus. The Special Show, a central forum for swapping information, thoughts and opinions in Hall 6, complemented the exhibits at K for the ninth time now. This year saw individual themed days illustrate the impact plastics have on shaping modern living environments. The agenda featured both expert discussions and entertaining presentations and sports activities as well as exciting experiments. At the Science Campus exhibitors and visitors to K 2016 obtained a focused overview of scientific activities and results in the plastics and rubber sectors and were given the opportunity to make contact with numerous universities, institutes and sponsoring organisations.
The next K in Düsseldorf will take place from 16 to 23 October 2019.