From vehicles to electronic devices, more and more products are being offered in increasingly diverse design variations. For production, this translates to smaller lot sizes. At the Fakuma 2018, from October 16 to 20 in Friedrichshafen, Germany, using two innovative applications Engel Austria will demonstrate how small lot sizes can be realised with the efficiency and economy of large series.
Production of variations with fully automated switch-over: Three premieres at the same time
At the Fakuma 2018, Engel is celebrating three premieres at the same time with a highly integrated production cell on which two-part callipers are manufactured using ABS. A fully automated solution for the very rapid switch of mould inserts will be presented for the first time, the new size 120 of the all-electric and tie-bar-less e-motion TL series with a clamping force of 1200 kN will be introduced to the public, and thirdly, the expanded functionality of the e-flomo electronic temperature-control water manifold will be presented.
Lot sizes of less than 1,000 present a special challenge in injection moulding. In order to economically realise a large number of variations, moulds with interchangeable inserts are often used. At the Fakuma, Engel, together with Braunform (Bahlingen, Germany) and other system partners, is going one step further. The system solution presented there allows for a fully automated switch of the mould inserts within just one minute. To this end, the Engel e-motion 170/120 TL injection moulding machine is equipped with a mould that includes the fast-switch mechanism patented by Braunform.
To clearly demonstrate the potential of the new solution, the two geometrically different components of the calliper will be produced in rapid succession one after the other. After only three shots, the injection moulding machine alerts the integrated Engel easix articulated robot that the lot has been fulfilled and unlocks the mould inserts. The robot first removes the last produced component, then changes grippers and switches the mould inserts. From usable part to usable part, this process only takes one minute. Communication between the injection moulding machine and the periphery is conducted via authentig, the MES of Engel subsidiary TIG. The software provides the parts data sets to both the machine and the robot.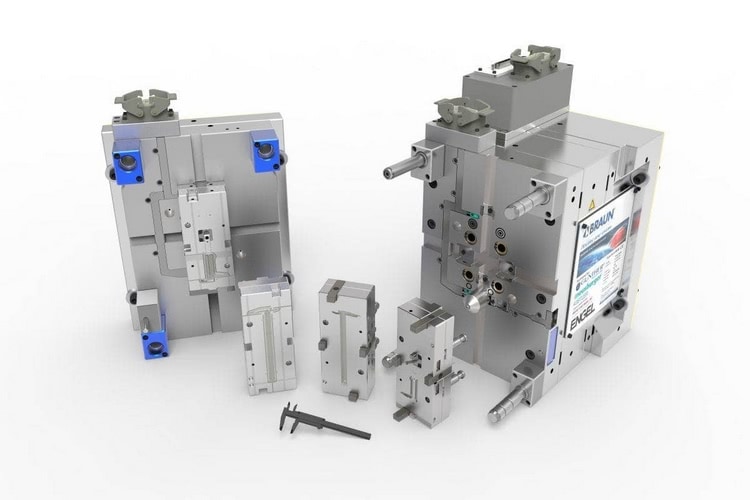 Built by Braunform, the mould with patented fast-switch mechanism allows for product changes within one minute