4.0 assistance ensures the highest measure of usable parts
One of the challenges of this application is that both components have widely varying shot weights. In order to already produce a usable part with the first shot following the setup, the injection moulding machine continuously optimises itself with the help of three intelligent assistance systems from Engel's inject 4.0 programme. While iQ weight control readjusts the melt volume for each individual shot, iQ clamp control calculates the optimal clamping force and sets it automatically. iQ flow control - the third assistance system on the team - automatically compensates temperature differences in the cooling water manifold circuit based on the measurements determined by e-flomo, and adjusts the pump speed in the e-temp temperature control units to the current process conditions.
The electronic temperature-control water manifold e-flomo makes another contribution to the short setup times. The automated, sequential blow-out of the manifold circuits in the mould ensures that water and possibly dirt left in the temperature-control channels is completely removed before the removal of the mould or mould insert. Upon installation, this new function guarantees an optimal ventilation of the temperature-control channels. As compared to the conventional manual blow-out, the automated process saves time and also allows for an extension of the mould's maintenance intervals. Since all channels are not evenly ventilated by pressurised air in the manual procedure, residual water may remain in the channels and lead to corrosion. This risk is eliminated by automation.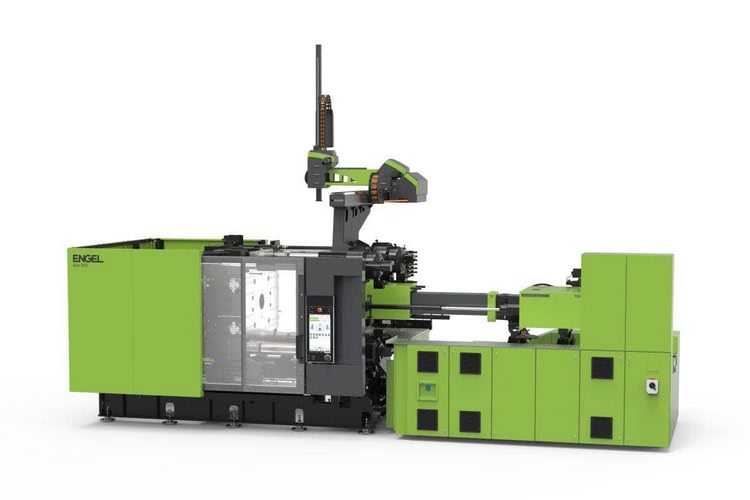 During the Fakuma, a duo 1060/350 injection moulding machine will be used for the production of highly decorated sample components.
All units compactly integrated
One real eye-catcher at the Fakuma is the extremely compact layout of the production cell with the easix robot at its centre. The robot is responsible for the complete handling of the mould inserts and components, the marking of injection-moulded parts and their assembly, and the removal of the callipers from the production cell. To this end, the injection moulding machine, the station for grippers and mould inserts, the laser printer, the assembly device and the conveyor unit are arranged around the robot in a star shape.
Two factors in particular contribute to the extremely space saving arrangement of the individual components. One is the freely definable prohibited areas of the easix robot and the other is the tie-bar-less clamping unit of the e-motion TL injection moulding machine. The barrier free access to the mould area allows the robot to move very close to the clamping unit with no motion restrictions.
With the completely automated production cell, the system partners Engel and Braunform are addressing customers who produce articles similar to each other in small lot sizes or with a high degree of variation. Typical products are consumer goods such as writing tools, technical components in the automotive and electronic areas, but also a range of medical technology products.