The plastics industry in North America continues on a course of growth. In particular, there is an increasing demand for innovative techniques and economic solutions for high-performance applications. Both trends are reflected in the exhibits at the Engel booth at NPE2015.
One main emphasis will be on lightweight construction, which is currently one of the areas with the strongest growth. "In the next few years we can look forward to strong growth in the injection molding industry, particularly in the field of fiber composite engineering," points out Mark Sankovitch, President and CEO of Engel North America with headquarters in York, Pennsylvania. Directed fiber systems have long since established themselves in high-performance products - for example in the aircraft industry. For composite materials to find even wider use in high volume applications, such as in the automotive sector, the biggest challenge at present is to develop manufacturing processes that provide low unit costs despite high volumes. "Engel is providing ground-breaking offerings in thermoplastics solutions to provide production breakthroughs across all industries," emphasises Sankovitch. Injection moulding technologies offer great potential for this. Engel already fulfils another crucial success factor with its high levels of system solution and automation expertise. To promote even faster development of new processes, Engel established its own technology center for lightweight composites in 2012 at the site of its large-scale machine production facility in St. Valentin, Austria. The technology center was created primarily as a platform for interdisciplinary collaboration with international partner enterprises and universities. In collaboration with its system partners, Engel has been able to set several milestones in recent years.
Engel automotive: Cost efficiency for high-volume lightweight construction
Engel and its partner ZF-Friedrichshafen will present one of these milestones in Orlando - a geometrically optimised and stress-resistant plastic brake pedal. The concept for manufacturing a hybrid, brake pedal from thermoplastic fabric received the Composite Innovations Award in 2011, and has been consistently enhanced by ZF since then. Engel will be offering a glimpse into the efficiency of the new manufacturing process at its stand at the exhibition. Using a vertical Engel insert 1050H/230 single US injection moulding machine with an Engel easix multi-axis industrial robot and infrared oven, a continuous-fiber-reinforced thermoplastic semi-finished product (known as thermoplastic fabric) will be heated, preformed in a mould and immediately over moulded with polyamide. The system produces ready-to-fit components; no cutting is necessary.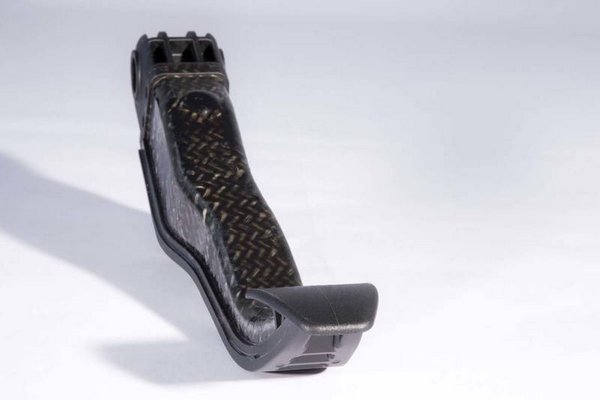 Thermoplastic fabric offers offer high strength and rigidity. In addition, the product developers at ZF have adapted the layer structure to the component load when designing the brake pedal. This enabled the component weight to be reduced by around 30 percent compared to conventional steel brake pedals - without impairing load-bearing capacity. In addition, the lightweight construction method makes many conventional manufacturing process steps unnecessary, thereby increasing productivity and cutting unit costs.
The control unit of the Engel easix multi-axis robot is fully integrated into the control unit of the injection molding machine. As a result, besides making it easy to operate and program the robot, the movements of the machine and robot are precisely coordinated with each other. Since the robot has access to the machine parameters, the gripper can enter the mold area during the opening movement, which in turn significantly reduces cycle times. Synchronous movements are particularly important when it comes to handling pre-heated semi-finished products, because semi-finished products must not be allowed to cool too rapidly in advance of the forming process. Another factor that determines quality in this application is the high positional accuracy of the multi-axis robot.