25 tie-bar-less years - a success story with future potential
"25 tie-bar-less years" - Engel will be celebrating this anniversary at the NPE with an Engel victory 330/85 tech US machine, which will be producing fittings for drain systems.
Since the first single-screw injection moulding machine was developed in 1956, it was regarded as an unshakable design Engel that an injection moulding machine had to have four tie bars. When Engel unveiled a tie-bar-less machine at the K 1989 international plastics trade show in Düsseldorf, Germany, the innovation made by the Upper Austrian Company was greeted with astonishment by some, but with ridicule by others, and many arguments were raised against it. Today - 25 years later - tie-bar-less injection molding machines are one of Engel's biggest sources of revenue. So far, more than 60,000 tie-bar-less machines have been delivered worldwide, underlining the outstanding success of this design principle. With their large platen faces and free access to the mold area, the machines meet the need for high efficiency and cost-effectiveness in injection moulding production better than any other design today, and will continue to do so in the future.
The production of fittings makes optimal use of the tie-bar-less technology. Although the mold provided by ifw-Kunststofftechnik (Micheldorf, Austria) for the production of the fittings at the NPE is of substantial size, it can still be mounted on the 85-ton machine quickly and easily. "If we were using a traditional machine with tie-bars, we would need a much larger machine with a clamping force of at least 150 tons in order to fit the bulky mould. We would also have to remove a tie bar or disassemble core-pulls to set up the mould," says Mark Sankovitch. With no tie bars to interfere with the mould in the Engel victory, the mould mounting platens can be used right to their edges. Therefore, very large molds can be mounted on relatively small injection moulding machines. At the same time, overall efficiency is enhanced. The costs for a smaller machine are lower both for purchase and operation, and it also requires less floor space.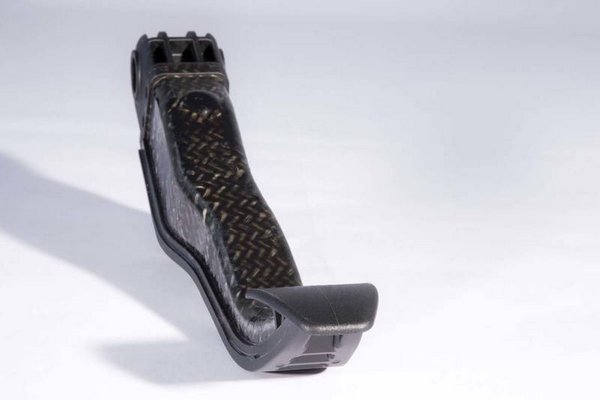 Automation: From a simple pick-and-place to a turn-key solution
From the dependable standard machine to the highly integrated and automated manufacturing cell developed under one roof, Engel provides solutions with maximum economical efficiency for its customers around the world. In the turn-key business, the processor has only one contact partner for the entire system right from the start, which can markedly reduce the time needed for project planning and commissioning. Even when individual components are provided in collaboration with partners, Engel bears the overall responsibility.
"The segment of system solutions is steadily increasing in our business," says Mark Sankovitch. "Engel is delivering more and more injection moulding machines with handling included." Automation is increasingly becoming an integrative process component which not only makes production processes more efficient and economical, but also makes it possible to realise totally new manufacturing methods, component characteristics, design solutions and product qualities.
In order to also be able to offer a very economical, dynamic and compact solution for simple pick-and-place applications, Engel has developed a new compact robot for horizontal and vertical part removal with a load-bearing capacity of up to 2 kg.