iQ weight monitor is standard as of Fakuma
How well iQ weight control can improve reproducibility depends on several factors. Naturally, processes which are already very stable can only be optimised to a small extent. To determine additional potential, the iQ weight monitor software calculates the improvement potential attainable with iQ weight control. As of Fakuma 2017, iQ weight monitor will be standard on all new ENGEL machines. In every cycle, the software compares the injection pressure profile with a previously defined reference curve, and simultaneously records viscosity changes as well as the injection volume. In this way, it provides especially accurate performance indicators for the continuous monitoring of processes.
iQ clamp control: New version for hydraulic duo machines
ENGEL is also continuing to expand the range of applications of the iQ clamp control software. New for Fakuma 2017 is a version for the large hydraulic machines of the duo series. "For large surface components, iQ clamp control provides an especially high potential for optimisation", clarifies Kapeller. "The software can be a crucial contributing factor in preventing rejects and reducing mould wear."
iQ flow control for highly efficient temperature control processes
iQ flow control, the third assistance system presented at Fakuma, connects the injection moulding machine, which is equipped with the e-flomo electronic temperature control water distributor, to the temperature control unit, thus enabling the pump speed to automatically adjust to the actual requirement. This results in higher energy efficiency. Together with its partner HB-Therm, ENGEL has developed its own line of temperature control units called e temp. The new solution was presented for the first time at the K 2016. Demand was huge from the beginning. Many processors are already successfully using iQ flow control.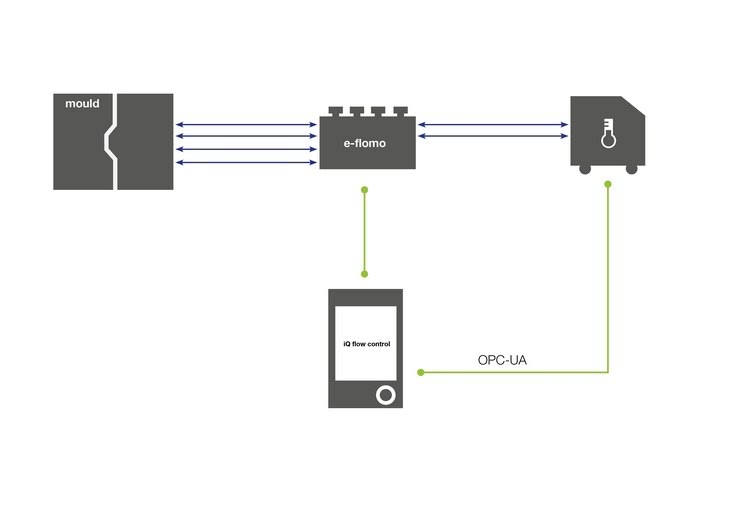 With iQ flow control, ENGEL and its partner HB-Therm have achieved a milestone on the path to securing data exchange in the smart factory. The temperature control unit is integrated into the CC300 control of the injection moulding machine via OPC UA.
With this project, the partner companies ENGEL and HB-Therm have achieved a milestone on the road to the smart factory, as the temperature control unit is integrated into the injection moulding machine via OPC UA. This industrial communication model is becoming more and more established as a common language in the plastics industry because it allows for platform-independent, high-performance, and above all, secure communications both within the shop-floor level and with higher level control systems such as MES and ERP. "Together with leading market partners, ENGEL is working on establishing a general standard for communication models in injection moulding applications based on OPC UA", says Kapeller. In the meantime, several Euromap recommendations on the basis of OPC UA are already in process.