Energy from the sun
The worldwide reserves of crude oil, natural gas and uranium are predicted to run out in just a few decades. Only coal is set to last centuries. Beverage and food manufacturers, too, with their energy-intensive products, are having to look around for alternative sources of energy. Within this energy mix of the future, the sun will play a key role. Making use of the sun as a permanent supplier of energy makes economic sense, even in countries like Germany. This is already being seen in modern housing construction, where the emphasis is on first reducing heating demand, and then covering the remaining demand through solar-thermal systems.
The same process applies to industrial use. Particularly when the latest collector technology is installed. A modern collector, set up in Würzburg for example, yields around 400 kWh/m²a and delivers process water at 140°C. The flat-plate collectors generally used in residential construction deliver around 200 kWh/m²a and hot water at a maximum of around 70°C. This hot process water is stored in an insulated tank and used for individual 'consumers' (mash tun, bottle-washing machine). Around 50 percent of the total annual demand for thermal energy – even of a brewery, where a lot of boiling goes on – can be met with the help of the sun.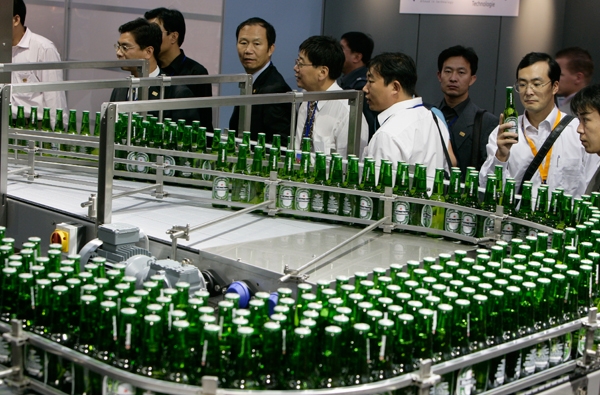 One obvious and very sensible use of solar energy is to produce process cold. This can be done by means of absorption cooling systems operating on hot water generated by solar-thermal collectors. Some are familiar with this type of chiller from camping fridges that operate on a gas flame. But what happens when the sun isn´t shining? Even then solar is still the answer. Because locally sourced wood chippings and the biogas obtained from biomass are nothing else but stored solar energy.
And they can be transformed into process heat at any time. Just how this can be done sustainably is something that visitors to drinktec 2009 can find out for themselves, for example, in a series of lectures on 'Resource – Water' in the forum programme.
Drinktec is the world fair for beverage and liquid food technology. It is the most important trade fair for the sector. Manufacturers and suppliers from all over the world – global companies and SMEs alike – meet up here with all the key producers and retailers of beverages and liquid food products. Within the sector drinktec is regarded as the number one platform for launching new products on the world market. The fact that the entire production chain is represented at drinktec emphasises the fair´s role as the world´s leading trade fair for the sector.
Manufacturers come along to present the latest technology for producing, filling and packaging beverages of all kinds, as well as liquid food – including raw materials and logistics solutions. A special feature of drinktec is that entire machinery systems and plant are set up here and demonstrated in action – this kind of a display is unique to drinktec. drinktec 2009, which takes place at the New Munich Trade Fair Centre from 14 to 19 September 2009, is expected to attract around 1,500 exhibitors from around 60 countries, and around 70,000 visitors from over 160 countries.