Why is alcohol-free beer so trendy? Is PLA a serious challenger to PET? Is the sun going to be the main source of energy for the beverages industry of the future? And what does the label of the future 'say'? At drinktec 2009, World Fair for Beverage and Liquid Food Technology, it´s not all about the technology used to manufacture and bottle beverages and liquid food – it is also of course about the products themselves.
Without the technology there would be no products. But new products, in turn, can sometimes foster the development of new technologies. What follows is a brief (and by no means comprehensive) look at some of the very latest themes from the world of beverages and food. Topics that are being hotly debated in the sector at the moment and which in some cases are already affecting consumer behaviour.
Alcohol-free beer captures the mood of the moment
Sales of beer from Bavarian breweries fell in the first half of 2009 by 4.1 %, but over the same period sales of alcohol-free beer rose by 9 %. In Bavaria, of all places, the home of beer! Are we seeing a kind of cultural revolution?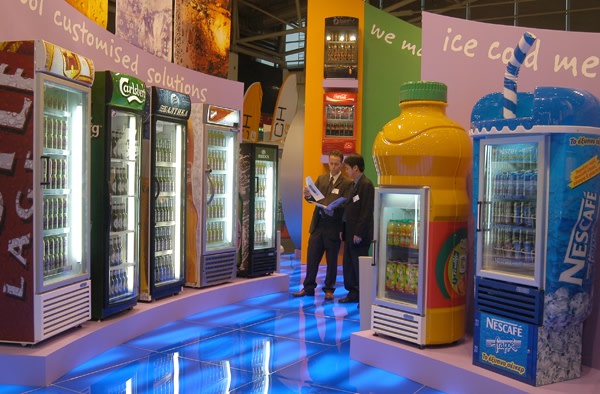 Well, yes, in a way, because alcohol-free beer reflects the current zeitgeist, and it is also the only bitter-tasting sports drink! Alcohol-free beer is low in calories, isotonic, has an almost perfect spectrum of complex sport sugars, amino acids and minerals, and is more than 90 percent pure water – from a sportsperson´s point of view, it´s the ideal drink for regeneration and rehydration.
The only thing to watch is the high potassium content, which can have a diuretic effect if sodium intake is too low. So, a salty pretzel with an alcohol-free beer is a great way to unwind after an energetic training session or competition.
The same is true for other sports drinks, too – a pinch of salt in the drinking bottle is a good idea and an important point. But there are other reasons why alcohol-free beer is recommended as a sports drink: it is kind to the stomach and has a comparatively high pH value, combined with a moderate carbonic acid content.
Then there´s the hop itself, of course, which has a relaxing and therefore restorative effect. And not least bitter beverages can be consumed in higher quantities. All of this supports the actual main purpose of a sports drink – to provide the body with water and nutrients.
There are two ways of producing these sporting wonders: One is to remove the alcohol from the fermented beer. For this distillation or membrane processes are used that work at a low temperature. This method achieves beers which have zero-percent alcohol. The second way is interrupted fermentation, in which the brewer only allows the beer to reach the minimum permissible quantity of alcohol. Whatever production method is used, however, one thing is always clear: no alcohol-free beer can ever taste just like the original with alcohol. But then again, why should it, because it isn´t trying to be just a copy, but a unique product in its own right.
It is the only bitter alternative in the whole spectrum of sweet sports and soft drinks. The taste of beer is certainly one of the themes at drinktec 2009 – in the tasting sessions with Karl Schiffner, World Champion Beer Sommelier (on 15, 16 and 17 September, from 11.30 a.m. to 2 p.m. and from 4 to 5.30 p.m. in the drinktec Lounge in Hall B1) and in the lectures in Forum 2 in Hall B1. There, one of the theme blocks on Wednesday, 16 September, focuses on 'News for the brewing process'.