Organic is 'in' – for packaging, too
Environmentally conscious consumers like to buy organic. Preferably also in organic packaging. Not least because, as we all know, the plastics used today all come from the same source, and one that sooner or later is going to dry up – crude oil. For this reason, the packaging sector is moving more towards renewable materials.
The market for organic plastics, made from renewable resources like wheat, maize or sugar cane, is growing annually by 20 to 30 percent. Already we are seeing the first organic containers for non-carbonated drinks and for the processing of liquid foods. The main material to mention here is polylactic acid (PLA), as its properties are like those of PET.
As a result PLA has tremendous growth potential, because in 2009 alone no less than 350 billion PET containers will be produced worldwide. Just to what extent PLA could challenge the dominant PET will be explored at drinktec at the 2nd PLA Bottle Conference, on 14 and 15 September. The second big market, alongside containers, is in packaging foils. Here, too, there are some interesting new developments: In an EU research project, for example, new-style flexible papers with a multilayer structure are being developed entirely out of renewable resources.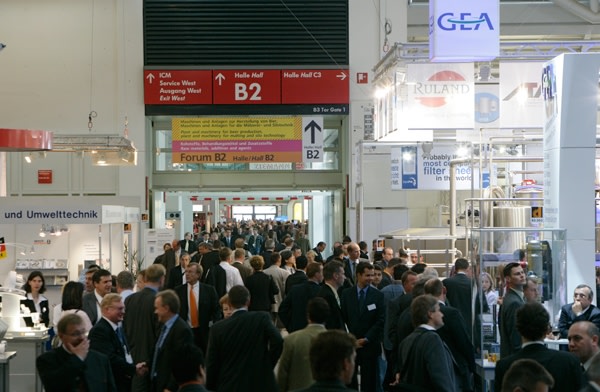 The Fraunhofer Institute for Process Engineering and Packaging, of Freising, is delivering special techniques which improve the barrier properties (to water vapour and oyygen) of the pre-coated paper. Antimicrobial coatings are also being worked on. In one of these materials whey protein is being used – to give the foil excellent barrier properties against oxygen and moisture. In addition the antimicrobial constituents naturally found in whey are being exploited to extend the length of time foods can stay fresh.
To conclude, an important point: Many organic plastics are regarded as compostible, but this is only true to a certain extent. Most of them rot down very slowly, or need to be heated to fully decompose – and that of course counts against them in an eco-audit. In any case, these materials are far too valuable for them to be only used once. Recycling is and will continue to be the next big area for the future. Anyone who wants to know what is possible in this area, now and in the future, will be heading for one place only in September – to drinktec 2009 in Munich.
Smart packaging – fiction or reality
In the science-fiction film Minority Report, Steven Spielberg had Cornflakes packets with printed cartoon films playing on them. Although this particular vision is still a long way off – the film is set in 2054, the technology to make this kind of thing happen is already within reach. 'Smart packaging', which provides additional information to consumers in different languages, can read out instruction leaflets to visually-handicapped people, or play an advertising spot on printed foil monitors. Already the road to achieving this kind of electronic wizardry is mapped out.
The key is intelligent ink. The strip conductors and components are made of organic polymers which are dissolved in a liquid phase, making them processible on a kind of inkjet printer. The declared aim of the developers here is to be able to offer such a chip for use in the mass segments of the beverages industry, at a price of under one cent. Within just a few years this should be a reality.
These printed RFID labels will then be able to monitor temperature accurately all the time and store and transfer data. And it´s not only this kind of passive data storage that is at the threshold of large-scale industrial manufacture, so, too, are active electronic circuits made up of transistors, resistors, LEDs and capacitors also manufactured with inkjet printers. One idea is even to supply energy from printed batteries or solar cells. That is the key to animated images or advertising jingles.
Printed electronics is opening up fascinating new potential: According to a report by market researchers NanoMarket, the market volume in electronic inks and substrates used in the manufacture of printed electronics, will rise from 1.1 billion dollars in 2008 to over 11.5 billion by 2015. And if visions can be valued in money, this shows one thing quite clearly: the smart future is already well under way. Just what innovations are in store in the global packaging market can be seen from 14 September at drinktec 2009 in Munich, the world´s No. 1 fair for beverages and liquid food technology.