DSM Engineering Plastics and Resinex sign distribution agreement to strengthen presence in Eastern European market.
DSM Engineering Plastics and Resinex have entered into a distribution agreement, to join forces in the market development and sales of DSM Engineering Plastics resins in Romania, Bulgaria, Slovenia, Croatia, Serbia and Bosnia.
The move, which is effective from 1 July 2010, is designed to strengthen the position of DSM Engineering Plastics in Eastern Europe. As such, this agreement is in line with DSM's corporate strategy to focus on new and emerging markets – as defined in Vision 2010, the corporate blueprint for future development of the company.
According to Anna Mojana (Distribution Manager) and Loek Ribberink (Central & Eastern Europe Sales Manager), for DSM Engineering Plastics this joint approach will allow a further growth in Eastern Europe emerging areas: - This agreement will make DSM's range of world class products more easily available throughout the region, using the RESINEX well-established distribution network. All products will be fully supported by DSM's outstanding technical support and application development programs, where necessary.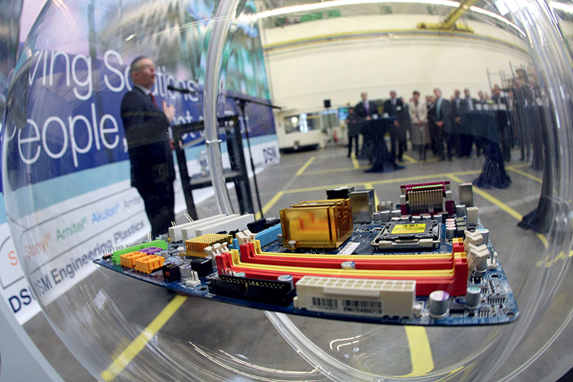 - This distribution agreement is a very important step, following the strategy of Resinex to expand its Engineering Plastics and Specialities product portfolio with well-known brands from prominent raw material producers - says Kees Vissers, Commercial Director Resinex. He adds: - The addition of these six countries to the existing distribution agreements between DSM Engineering Plastics and Resinex in France, UK, Benelux, Baltics, Turkey and Russia confirms the strong partnership between DSM and Resinex.
DSM Engineering Plastics is one of the world's leading suppliers of quality engineering thermoplastics providing customer value through sustainable solutions that reflect the DSM People, Planet and Profit strategy. DSM Engineering Plastics delivers innovative opportunities for customers who design or produce electrical applications, electronic equipment, cars, barrier packaging films as well as many mechanical and extrusion applications.
These markets are served with a broad portfolio of high performance materials including Akulon and Novamid 6 and 66 polyamides, Arnitel TPC, Arnite PBT and PET polyesters, Yparex extrudable adhesive resins, and Stanyl high heat 46 polyamides.
Most recently, DSM Engineering Plastics has introduced the first new polymer of the 21st century: Stanyl ForTii and has expanded her portfolio with two bio-based, high performance engineering plastics, EcoPaXX and Arnitel Eco. DSM Engineering Plastics had sales in 2009 of EUR 648 million and employs some 1600 people worldwide.
RESINEX was founded in Belgium in 1988 and is now the leading pan-European distributor of branded plastics and elastomers for many prominent raw materials producers.