Arnitel PB500-H has been approved for dirty and clean air ducts, assembled on the 1.3 JTD engines for the FIAT Group Automobiles platforms FIAT Minicargo and Lancia Y (euro V) and for the new Lancia Y which will be launched in the coming months.
Dirty air ducts convey the air before the air filter, whereas clean air ducts are situated in the engine between the air filter and the turbo-compressor.
This new blow molding grade of Arnitel ThermoPlastic Copolyester (TPC) is particularly suited for blow molding of complex shaped air duct applications in the automotive industry for use at continuous use temperatures (CUT) of 130°C. The new material was developed by DSM Engineering Plastics in conjunction with Fiat Group Automobiles and Tier 1 systems supplier Mecaplast.
According to Marco Foresti, who is responsible for CRF Engineering Material Application for Fiat Group Automobiles, Arnitel PB500-H meets the Fiat technical requirements, whilst at the same time offering a cost advantage over current solutions: "With a hardness Shore D=50, Arnitel offers new design freedom and a range of material properties that facilitate easy assembly and higher tolerances on the final design layout."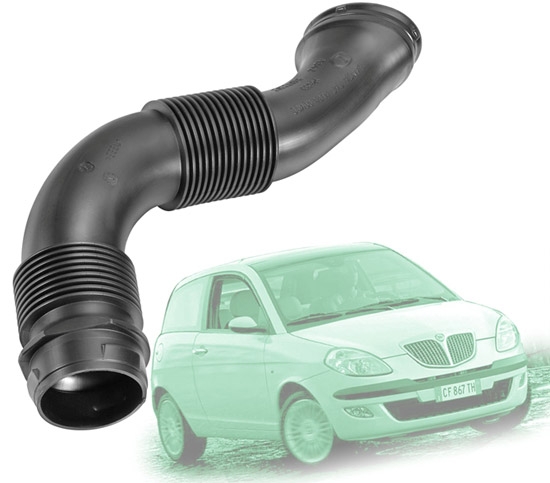 Ludovic Poix, Fiat Project Manager at Mecaplast, says: "Arnitel PB500-H offers good and stable processability even in achieving complex shapes. The material delivers a superior smooth inner surface with no orange and/or 'crocodile' skin effects. We found it very flexible, over the whole temperature range of -40 up to 150'C. Moreover, Arnitel offers good weldability with PBT fittings/couplings."
Paolo Rossi, Fiat Business Development Manager, explains: "Requirements for Under the Bonnet (UTB) applications are changing constantly. Environmental requirements, EURO V and VI legislation and the call for reduced fuel consumption have resulted in significant changes, e.g. the use of smaller & lighter engines with higher turbo pressures and EGR (Exhaust Gas Recirculation). As a consequence, automobile UTB components such as air ducts are exposed to continuously rising operating temperatures. With increasingly critical temperature and tougher life time requirements, the long term service life of components made from current thermoplastics can be at risk."
Arnitel delivers cost efficient solutions for airducts combining high performance with cost savings through a single piece solution. Arnitel processes faster and lowers weight. DSM Engineering Plastics offers Technical support to Tier-1 to achieve first time right solutions.