According to the organizer, many prestigious enterprises have already confirmed their participation in Chinaplas 2013 since the exhibitor recruitment just began. The overwhelming response greatly reflected their confidence in the exhibition and once again proved the leading position of Chinaplas in the industry.
There are chemicals and raw materials suppliers like Du Pont, Borouge, BASF, Dow, ExxonMobil, Lanxess, etc; machinery suppliers like Haitian, Chen Hsong, Borch EDI, Ningbo Fangli, Liansu, Jwell, Jinhai, Dalian Totani, Demark, Akei, Matsui, Kawata, Wu Xi Yang Ming, Tung Yu, Zerma, Avian, Conair, etc and mould and die suppliers like Mold-Masters, Yudo, etc.
The organizer also expects to attract over 115,000 professional buyers from 150 countries and regions, in which 25% will be overseas visitors. In consideration of the large exhibition scale and the diversified variety of exhibits, the organizer has thoughtfully set up 11 theme zones which enable buyers from different industries to visit and search their interested exhibitors more effectively.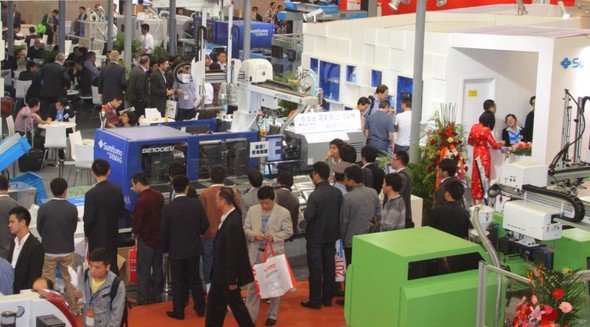 The theme zones include Injection Molding Machinery Zone, Extrusion Machinery Zone, Plastic Packaging & Blow Molding Machinery Zone, Film Technology Zone, Rubber Machinery & Equipment Zone, Auxiliary & Testing Equipment Zone, Die & Mould Zone, Chemicals & Raw Materials Zone, Semi-finished Products Zone, Bioplastics Zone and Chinese Export Machinery & Materials Hall.
Catering to the rapid development of the plastic films industry and the growing market demand for film products, the Film Technology Zone is a newly-established theme zone to display exhibits like extrusion line for blown films, extrusion Line for flat film and sheets, stretching lines for films, filament, slitter rewinders and winding equipment.
In order to cope with the promotion and gain more exposure for Chinaplas 2013, the organizer is actively recruiting travel agencies from all over the world as the strategic partners of the show. Till now, travel agencies from Brazil, Canada, Colombia, Finland, India, Indonesia, Korea, New Zealand, Philippines, Russia, Taiwan and Thailand have been confirmed as the overseas endorsed travel agencies of Chinaplas 2013 and ready to provide one-stop service for overseas exhibitors and visitors on transportation, accommodation, factory visit and sightseeing, etc.
The coming edition has two different entry tickets, namely one-day pass (RMB 30) and four-day pass (RMB 50).
Visitors who successfully pre-register online at www.ChinaplasOnline.com on or before Mar 15, 2013 will enjoy RMB 150 privileges including free admission with visitor badges being received in advance, plus a free coupon to redeem Exhibition Catalogue. In addition, pre-registered visitors can search exhibitors' information and personalize their own visiting guide by using myChinaplas online service and enjoy Online Business Matching service to match with their interested exhibitors.