Borealis' proprietary Borstar technology is built on process and catalyst technology development and is a focal point of the company's innovation programme. The company uses this technology to design molecular structured materials to meet customers' specific needs. Borstar PE and PP capacity expansion in both Europe and the Middle East is a core ingredient of the company's strategy.
Conventional polyethylene can not really be compared with Borstar polyethylene, because the Borstar process makes it possible to combine the good properties of various conventional PE's into one product and hence create new products that set new standards. The fundamental feature of the Borstar technology is its dual reactor operation which allows us to produce materials for film extrusion in a wider range of densities and MFR, with a broad (bimodal) molecular weight distribution and tailored comonomer distribution.
Unlike conventional bimodal processes, which are limited to HDPE and MDPE products, Borstar can also produce bimodal LLDPE resins. This is made possible by the unique patented process configuration. Borstar technology is suited to a very wide range of PE product properties and applications, and offers new materials with enhanced performance.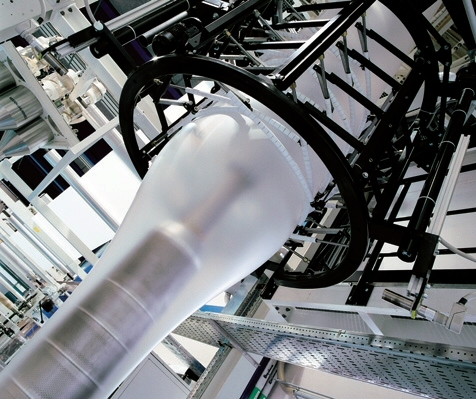 The enhanced Borstar LLDPE product mix exhibits today an extended list of products for blown film. These grades are all very well suited for extrusion on most blown film lines including coextrusion and blends, as well as coextrusion with HDPE in high neck HD extrusion lines. Borstar PE film products are indeed different from conventional LLDPE due mainly to the very broad Molecular Weight Distribution (MWD).
All Borstar grades exhibit enhanced physical properties combined with very good processing properties. With the broad MWD, all Borstar grades have excellent homogenisation with most other types of PEs.
FB2230 and FB4230 through their lower density, exhibit the best sealing performance. FB2310 and FB4370 have increased stiffness combined with high toughness, which makes them excellent products for core layers in coextrusion and providing stiffness modification for PE blown films.
FB4230 and FB4370 have been developed to provide improved output and improved extrusion properties, resulting in reduced pressure and also lower power consumption. The FB4370G is especially developed for cast process geo-membrane applications with an enhanced additive package to meet the demand for higher thermal resistance which is required for these applications.
The enhanced Borstar HDPE product mix today includes an extended list of grades for blown HDPE film. These grades are very well suited for extrusion on most high neck blown film lines including coextrusion and blends. FB1350 is mainly intended for high neck film extrusion. This grade with its broad MWD is easy to extrude and performs well in conventional HDPE blown film lines. In addition, FB1350 and FB1350G show excellent extrusion properties for blown geo-membranes. FB1350G is especially developed for the blown process for geo-membrane applications with an enhanced additive package to meet the demand for higher thermal resistance which is required of these applications.
FB3450 is especially developed for blends in film made from LDPE (or LLDPE mix) for enhancement of stiffness and conversion processes. With a mix of 10-30 % FB3450 one achieves improved process properties as well as increased stiffness. The benefits can be measured in higher retention force which is a very important property in shrink films and collation shrink films.