The games at the European Soccer Championship will be played to the rhythm of the "Tango 12," a cutting-edge synthetic ball that is fast, robust and precise. The adidas ball sports a new design and is based on proven materials from Bayer MaterialScience.
The surface texture of the official European Championship ball feels like denim, allowing for better ball control. The players are quite taken with this innovation. "I really like the new structure because it provides good grip," says Johan Elmander, a player on the Swedish national team. "The ball's weight is also optimal, making it easy to control."
The shell is made up of five layers with a total thickness of 1.1 millimeters. These layers make the European Championship ball robust and accurate. The middle layer – an Impranil® foam containing millions of gas-filled microcells – is responsible for the optimal contact of the "Tango 12" to the foot. The upper layers protect the foam from external influences and help keep the ball looking new longer.
Another specialty material from Bayer MaterialScience is used for a patented thermal adhesive layer that makes the ball virtually impermeable to water. "Even in heavy rain, its weight increases by no more than 0.1 percent, which means that the players are able to control it better," says Thomas Michaelis, project manager for ball development at Bayer MaterialScience.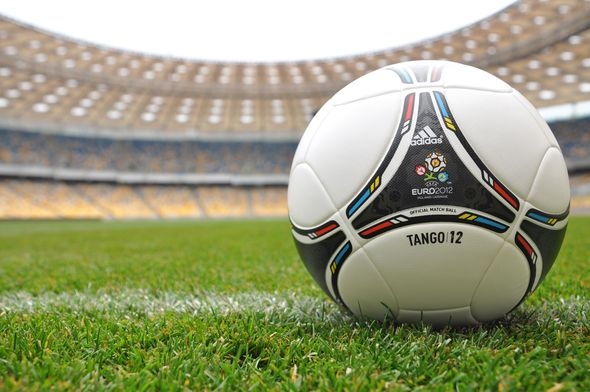 Not only did the ball deliver impressive results in comprehensive laboratory tests, it also impressed both amateurs and professionals in eight countries who played with it during a year long test phase. "Never before has a soccer ball been subjected to such exhaustive testing," says Michaelis.
The ball's name and design are every bit as traditional as its insides are modern. The Tango debuted at the 1978 World Championship in Argentina, and its successors provided for plenty of goals at subsequent championships in the 1980s.
The new ball sports the classic black and white design updated with colorful accents. The host nations' national colors – red and white for Poland, yellow and blue for Ukraine – have been immortalized in the triangles. Another unique feature is that unlike its predecessors, it does not have a glossy surface – matte balls are currently in vogue.
The "Tango 12" isn't just the official game ball of the European Championship, however. It is also being used in the German Bundesliga, the Champions League, Major League Soccer in the United States and the Primera División in Argentina.
The design is modified for each, but the structure and properties remain the same. Bayer MaterialScience and adidas want to continue their successful collaboration. The two companies are currently working on the next advancement.
Bayer MaterialScience's involvement in sports goes beyond soccer. Safer, more stable, faster – sports equipment such as skis, snowboards and inline skates also benefit from high-tech plastics. This also applies to other sporting goods. Raw materials from Bayer MaterialScience can be found in goggles, helmets and shoes.