A Bayer project for using the greenhouse gas carbon dioxide as a component for plastics is among Germany's most promising ideas for the future.
The "Dream Production" research initiative is one of the award winners in this year's
"365 Landmarks in the Land of Ideas"
competition. A pilot plant at Bayer's Leverkusen site is one of the "Selected Landmarks 2012." The CO2 supplied by the power generation industry is to be used for the production of high-quality foams, replacing a portion of the petroleum usually used as a raw material.
Each year this competition under the patronage of the German President honors 365 ideas and projects that make a sustainable contribution to Germany's future viability. It has been held each year since 2006 and is sponsored in part by the "Germany – Land of Ideas" initiative. The winners chosen by a panel representing science, industry, politics and the media are considered "indicators of Germany's strong culture of innovation and a reflection of important future trends."
This year there were more than 2,000 applications for the award, which is presented in six categories. Dream Production won in the category Science.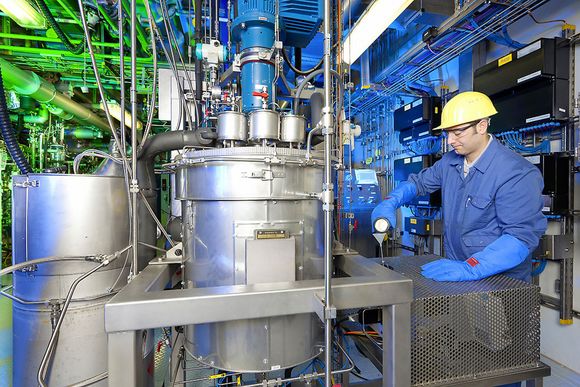 "We are very pleased and proud to have been chosen as one of the selected landmarks in recognition of this innovative project," says Dr. Tony Van Osselaer, member of the Executive Committee at Bayer MaterialScience, the company leading the Dream Production initiative. Van Osselaer believes it reinforces the strategy "to focus on sustainable products, processes and solutions to cope with global challenges such as resource conservation and climate change."
Other participants in the project launched in summer 2010 are the energy company RWE, RWTH Aachen University and the CAT Catalytic Center on the university campus. Researchers at Bayer and CAT have together developed a catalyst, without which the new process would not be possible.
The pilot plant at Chempark Leverkusen has been using CO2 from an RWE lignite-fired power plant in Niederaußem outside of Cologne to produce a chemical used for the production of the high-grade plastic polyurethane. Industrial production of the CO2-based precursor is scheduled to begin in 2015. Polyurethane is used in many areas of our daily lives, including for mattresses, furniture, automotive components and to insulate buildings and refrigerators.
Also winning an award in the competition was a project initiated by Bayer and the German Soccer Association. The "Simply Soccer" initiative is intended to give mentally handicapped or learning-disabled school students access to club-level soccer.