Strength in service and automation
Arburg China's first-class range of services includes fast, competent service, both at local level and over the phone. In addition, a broad range of training courses relating to machines, application technology and service are provided in the local language. The team in China is growing continuously, particularly in service and after-sales. "Our customers attach great importance to individual consulting and personal contact," stresses Zhao Tong. "We are very proud to offer them comprehensive support and to continue to grow with them." An important topic in this context is automation. In order to increase added value, an increasing number of more complex process steps are being integrated into the injection moulding process. Arburg offers a broad range of automation solutions from a single source. These cover everything, from simple pickers to six-axis robots featuring the Selogica user interface and complex turnkey systems.
In this way, for example, a sophisticated turnkey system produces folding crates for the packaging industry: a hydraulic Allrounder 920 S with a clamping force of 5,000 kN and a 1 + 2 + 2-cavity family mould first produces the five individual PP parts in a cycle time of 32 seconds. A Multilift V 40 linear robotic system with a load capacity of 40 kilograms then removes all moulded parts simultaneously and positions them in a separate assembly station. There, the 950 gram end product is automatically assembled within the injection moulding cycle and the ready-to-use folding crate (40 x 30 x 15 centimetres) is placed on a conveyor belt by the Multilift V 40.
Represented in all industries
With its modular product range, Arburg offers suitable solutions for every industry. The continuing trend in China is towards high-quality products. Lightweight parts are of interest to many industries, in particular the automotive sector. Arburg will therefore be presenting the ProFoam physical foaming technology in China for the first time. "As well as reducing weight, they can also be used specifically to improve mechanical characteristics and part quality. The innovative process can be used on conventional injection moulding machines. The exhibit is a hybrid Allrounder 570 H with a size 800 injection unit that produces an interesting component for passenger car engine compartments. Processing involves fibre-reinforced materials (PA66, 30 GF). With its fine cell structures, the ProFoam part is characterised by low weight, few sink holes, uniform shrinkage and greatly reduced distortion. A granulate lock ensures a continuous feed of material and gaseous blowing agent. As well as a version with a capacity of one litre, Arburg also offers a five-litre granulate lock for size 1300 to 4600 injection units.
Medical technology is an important market for Arburg and is characterised by high growth rates. The modular Allrounder can be precisely tailored to customers' requirements. The range extends from machines and production cells that are docked to a clean room from the outside to a machine or turnkey system in the clean room itself. An Allrounder 370 E Golden Electric is used at the Chinaplas 2018 to demonstrate that the entry-level electric series is also suitable for the precise production of medical technology parts. The exhibit uses a 2-cavity mould from Wellmei to produce Y connectors for intravenous drip therapy. The moulded parts made from PC are removed and set down by a Multilift Select linear robotic system.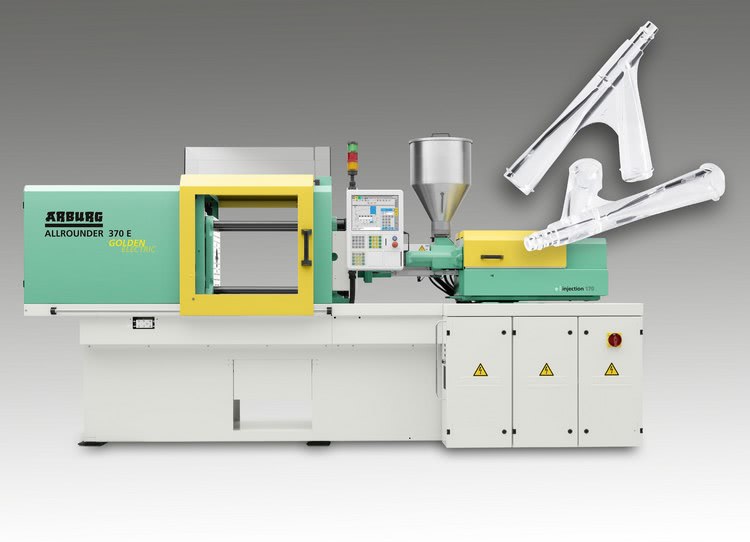 At the Chinaplas 2018, an Allrounder 370 E Golden Electric machine produces Y connectors for intravenous drip therapy.