tna, a leading supplier of turn-key, integrated packaging and processing solutions for food production companies worldwide, debuts a series of six technical advancements for the confectionery, fresh produce, and the delicate baked and salty snack industries, that will make production more efficient, improve quality, increase output and reduce waste.
tna will take the confectionery industry on a sugar high with one of the fastest Vertical Form Fill & Seal (VFFS) machines designed specifically to meet the challenges of confectionery packaging. tna will introduce a new design integration of the robag with scale and date coder, capable of speeds of over 220 bpm.
The company`s will jump for joy over a revolutionary new jaw sealing innovation on their robag. The new jaw is designed to create high-quality flexible bag formats such as quattro and block bottom bags by delivering more sealing time whilst maintaining the high speeds tna customers expect.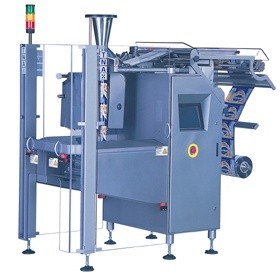 At interpack 2008 tna gives produce a reason to get fresh with the introduction of their new stainless steel VFFS robag machine for fresh and frozen packaging. For products prone to cluster, the robag can be designed to provide optional "bag shaker" software that literally shakes the product at exactly timed intervals, ensuring product is pulled all the way to the bottom of the bag, dramatically improving throughput of products with special textures.
Tna also doubles up production rates with their new twin configuration robag, that will provide the lowest ?cost of ownership` and ?highest return of investment` for any VFFS machine on the market. This newest tna member of the robag family also offers complete software and electronics integration whilst offering the highest packaging efficiency to the salty snacks market.
- tna calms "the force" with the introduction of the new roflo. Using gravity defying linear motion, the new gateless and reversible roflo accumulation and distribution system dramatically reduces breakage of delicate product. The new roflo will provide large cost savings to customers through its improved performance, second-to-none flexibility and ?sophisticated simplicity` of design - explains the company`s representatives.