EcoPower 160
On all exhibits shown at the Fakuma, the integration of the machines and peripherals into a network under Wittmann 4.0 will be implemented and demonstrated. For the first time, the integration of Wittmann Aton material dryers into the UNILOG B8 machine control system has also become possible in addition to the integration of robots, TEMPRO temperature controllers, Gravimax gravimetric metering devices and FLOWCON flow controllers.
In particular, integration into the UNILOG B8 machine control system via Wittmann 4.0 will be demonstrated on an all-electric machine from the EcoPower series with an insider cell. On this machine, an EcoPower 160/750 with 1,600 kN clamping force, a coat hanger will be manufactured with a single-cavity mold from Haidlmair, Austria, using the Wittmann Battenfeld Airmould internal gas pressure process. The Airmould interface is also integrated in the UNILOG B8 control system. The combined compressor and nitrogen generator unit used has been developed and manufactured by Wittmann Battenfeld. The parts will be removed and deposited on the conveyor belt integrated in the production cell by a W818 robot from Wittmann with the new R9 robot control system.
An "Airmould-Center" next to the machine will offer visitors an opportunity to examine the Wittmann Battenfeld Airmould process in detail.
To give visitors an even better understanding of Wittmann 4.0, the Industry 4.0 solution provided by the Wittmann Group, an interactive display board will show a clear, easy-to-understand presentation of the integration of Wittmann peripherals into the UNILOG B8 machine control system.
Our services: MES and CMS – smart and efficient
Wittmann Battenfeld's exhibition program at the Fakuma 2017 will be rounded off with a presentation of our services. This will include the presentation of the MES system from our new MES partner, MPDV Mikrolab GmbH, for integrating injection molding machines into a corporate network and thus into the world of Industry 4.0. A special highlight is the WIBA-MPDV SmartMonitoring module, which can be integrated on every B8 monitor screen. In this way, the status of all machines in the network can be viewed from every injection molding machine. For the first time, the integration of an injection molding machine via the Euromap 77/83 protocol based on OPC/US will be shown, which will become available in the near future. Euromap plans to release the new EM 77/83 version in February 2018.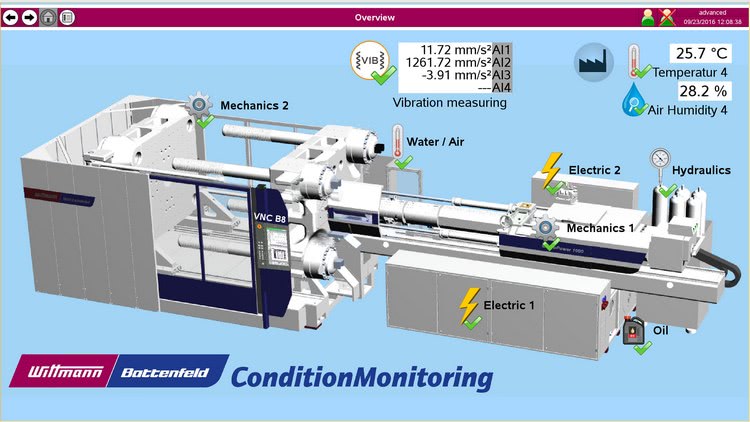 CMS overview
Visitors will also have an opportunity to gather information about the functionality of CMS, our modern machine condition monitoring system, and our WebService 24/7 system, the company's online service available round the clock on 7 days a week. The CMS system measures important machine condition data with sensors, analyses the readings in the machine's control system and transfers the data to the corporate MES system to enable optimal planning of maintenance schedules.
Source: Wittmann Battenfeld