Architecture and design thrive on versatile design combined with functionality. This calls for the right materials that offer creative scope and provide designers with the freedom they need. Plexiglas Mineral from Evonik is a particularly brilliant example of such a material, in the true sense of the word. This mineral-based material offers high gloss and thermoformability, adding a special touch to all types of architecture.
The homogeneously colored, mineral-based material with its high-gloss or satin surface lends itself to a wide range of applications. The mineral-filled acrylic can be thermoformed in two or three dimensions and offers unique reflective properties. "Plexiglas Mineral can be used to obtain ceiling-high, formed, individually routed or printed elements," says Ralf Nettner, market segment manager for Facades and Interior Design in the Acrylic Polymers Business Line at Evonik. "Our material paves the way for creative ideas."
Versatile design, low-maintenance façades
The façade of a police station in the Austrian capital Vienna was covered with Plexiglas Mineral. The building now has elegantly curved corners and the police logo is proudly emblazoned in red and blue on the façade. This is just one successful example of the wide variety of design options offered by the mineral material in terms of shape and color.
The curved strips that adorn the façade of the HessenChemie (Association of Chemical and Related Industry Employers for the State of Hesse) building in Wiesbaden (Germany) are similarly impressive. When installing its new building, the association paid special attention to energy efficiency and to using sustainable construction materials and processes. That was why the chosen material was Plexiglas Mineral, which offered the additional bonus of being especially low-maintenance and anti-soiling. This made it the perfect choice for a façade that is built to impress through its black-and-white contrast.
Plexiglas Mineral has an easy-to-clean surface that makes it very simple to care for. Façades built with this material therefore require much less frequent cleaning, which adds to their sustainability. In addition, the mineral-filled façade material is extremely weather-resistant and colorfast. It defies all the elements, is highly impact-resistant and UV-stable, combining high brilliance with durable color stability.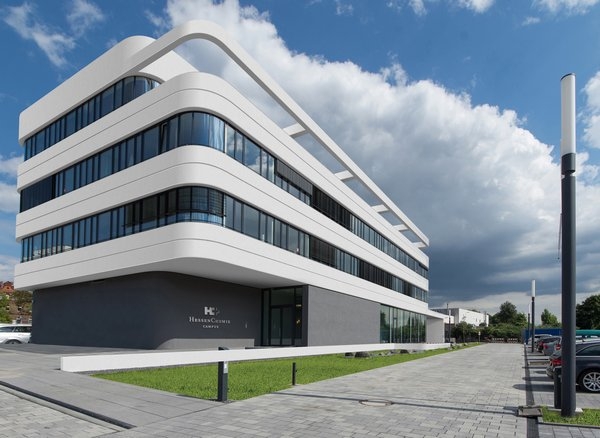 Innovative: Plexiglas Mineral and Calostat insulating material
Energy efficiency can be taken to even greater heights using the new insulating material Calostat, which is based on silicon oxide. Last year, Evonik presented the first façade element to combine a core of the high-performance insulating material Calostat with a cover layer of Plexiglas Mineral, uniting design and functionality and setting new standards for energy savings and CO2 reduction.
Even at a thickness of less than 15 centimeters, this highly efficient sandwich element makes it possible to meet passive house standards. It is the successful answer to growing demand for slim yet energy-efficient construction for the architecture of the future.
Creativity in interior design
But Plexiglas Mineral is not just an eye-catching exterior design element, it also enables comprehensive freedom of design indoors too, as at the Portuguese hotel The Oitavos, whose architect consciously took advantage of the variety of design options offered by the mineral material. Guests at the five-star hotel meet Plexiglas Mineral almost everywhere they go. The material was used to cover 4,300 square meters of wall, for one thing. The architect had all horizontal surfaces, from the spa to the bar and restaurant areas on to the hotel reception, made from Plexiglas Mineral. It was also used for partitions, washbasins and tables, ashtrays, waste bins and decorative elements.
Apart from its creative versatility, Hotel Oitavos also chose Plexiglas Mineral because it makes the surfaces of the numerous everyday items very easy to care for and ensures that they retain their characteristic appearance even in everyday use, an important criterion for hotel operations.