Flexible Packaging Business
Bespoke Packaging Innovation for Big Brands:  UFlex created packaging formats for big brands like Nestle, AgroTech Foods and Olam Agro for its product variants.
For Nestle's launch of new Maggi Chilli Garlic Fried Rice Instant Spice Mix, UFlex designed a structure comprising of 10 micron polyester pack with 6.35 micron Aluminum foil and 50 micron EVOH Poly that provides excellent moisture and oxygen barrier to pack seasoning that needs the aroma to be retained till its consumption.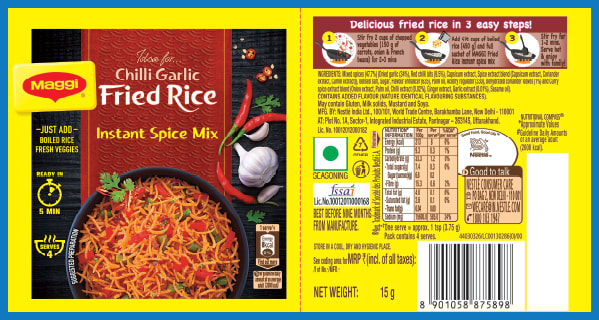 For Agro Tech Foods Sundrop Duo Twist Wrap, the requirement was to pack confectionary in a 23 micron metallized polyester pack with twist grade that allows surface printing and anti-static coating for smoother running of the pack through the machine. Due to the combination of matted gloss printing, in which the product printed on the package looks glossy while the rest of the pack wears a matted look, the pack catches instant attention when placed on retail shelves.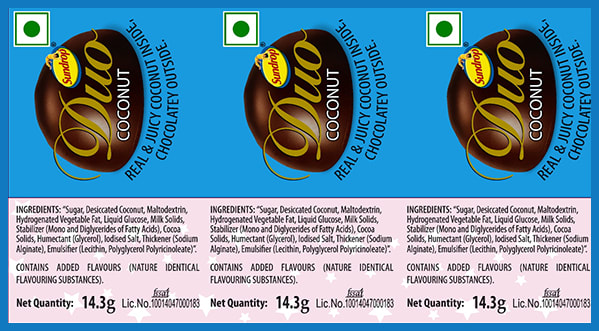 For the launch of dry fruits, spices & rice of global food & agri-business brand Olam Agro, UFlex created laminates & pouches with a structure of 12 micron PET, 12 micron window MET PET and 90 micron PE to pack contents with  requirement of a strong barrier to retain aroma, nutrients & taste within shelf life. These single web laminates with side gusset window offers a good view of actual product to consumers. UFlex also worked on giving these packs a distinctive shelf appeal by using white ink separation with lacquer that lends a fusion look of metallic & matt on the pouch, while the registered matt coat makes the brand name and image of the product shine with its surrounding looking matted.
Films Business:
Metal Textured Film for Shelf-appeal: The Metal textured film is derived when textures are incorporated on a specially formulated BOPET substrate that is availed with the use of special polymers and nano materials, to impart good reflectance, depth and ease of processing. The films' two variants F-Brush-M and F-Lin-M are extensively used to produce labels and provide premium quality lamination on board, graphic and advertising banners, wall papers, automotive parts, sheet moldings and white goods. It is available in 23, 36 and 50+ micron thickness. F-Brush-M, available in silver, gold and rose colour, is used to achieve a fine brush like effect on a metallized polyester film to give a steel look on the shelf with excellent gloss and shine. Whereas, F-LIN-M is a special coated metallic linen textured polyester film that gives excellent gloss and design with seamless impressions.  Both variants are compliant with the EU and FDA standards. The entire manufacturing of the film involves no use of solvents or UV radiation which makes the film sustainable.
Ultra-low OTR PET Film for Food Packaging – Patent pending film F-ULP is a coated transparent BOPET film with barrier layer coated on one side that provides an ultra-high oxygen barrier. F-ULP has the highest level of barrier achievement with one of the lowest OTR in the world. The standard film has the OTR values of less than 0.4cc/m2/day which can be reduced further down to 0.08cc/m2/day or even lesser depending upon the coating thickness. The coating has an excellent adhesion on the substrate which gives it good bond strength with all types of adhesive systems in multi-layered laminates. Besides, the film also offers strong barrier against moisture, supreme crack resistance transparency and yields cost and environmental benefits, making it a preferred film by brands. The film is best suited to pack dry foods, confectionaries, snacks, dairy products, perishable products and processed foods.
BOPET Film for Printing & Lamination Application – UFlex launched F-MSH grade polyester film for multiple printing and lamination application. It is a mono-extruded matte finish polyester film that has high haze of more than 80% and low gloss with excellent muted and grainy surface. This grade of polyester film is also available with on corona treatment or chemically coated side and complies with FDA and EC regulations for food packaging.  This film is highly beneficial for thermal lamination, label application, board lamination etc where one requires outstanding print quality and strong stiffness.
Sealable & Peelable BOPET Film with Water-based Coating for Lidding: F-TPS, a sealable and peelable polyester film with water-based eco-friendly coating, is a sustainable concept with low GSM instead of using solvent base coated product. This film offers higher optical clarity with 4-5% haze as against conventional haze product, and possesses anti-fog characteristics for hot and cold conditions. This film, that is USFDA and EU compliant, allows printed or metallized lidding on variations of PET like amorphous A-PET, recycled R-PET and crystalline C-PET, G-PET and PVC substrate.
High Oxygen Barrier BOPET Film for Dry & Chilled Food Packaging: Transparent high barrier polyester 'green' film F-PGS provides excellent barrier against oxygen and has chlorine free, water-based environment friendly coating technology. Additionally, the film offers excellent flex crack resistance unlike metal oxide coated film or Aluminium metallized film. Being optically clear and thermally stable with excellent processability, and due to it attribute to retain OTR at elevated humidity, this film is suitable for dry & chilled food and liquid packaging.